1846-O 50C Tall Date VF20
Certification #32629257,
PCGS #6256
Expert Comments
Ron Guth
The 1846-O Half Dollar is found with a Medium Date (Breen calls it a Small Date) and a Tall Date. Telling the two apart is actually quite easy: on the Medium Date, the bottom of the crosslet on the 4 nearly touches the right edge of the bottom serif of the 4; on the Tall Date they are widely separated. The Tall Date logotype was also used on some 1846 Large Cents.
The Tall Date 1846-O Half Dollar appears to be roughly twice as rare as the Medium Date version, based on the PCGS Population Report as of June 2011. Fewer than 40 examples have been certified by PCGS in all grades and only two Mint State examples have been certified by PCGS (both in MS-62).
Designer
Thomas Sully/Christian Gobrecht
Diameter
30.00 millimeters
Metal
90% Silver, 10% Copper
Region
The United States of America
Price Guide
PCGS Population
Auctions - PCGS Graded
Auctions - NGC Graded
Rarity and Survival Estimates

Learn More
65 or Better
200
All Grades
2
60 or Better
0
65 or Better
R-7.0
All Grades
R-9.9
60 or Better
R-10.1
65 or Better
7 / 66 TIE
All Grades
2 / 66 TIE
60 or Better
1 / 66
65 or Better
11 / 126 TIE
All Grades
3 / 126 TIE
60 or Better
1 / 126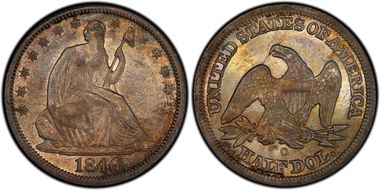 #1 MS62 PCGS grade

Dick Osburn Collection - Heritage 4/2015:4473, $5,170 - Stack's/Bowers 11/2015:20061, $16,450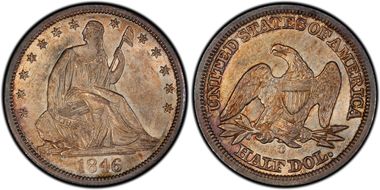 #1 MS62 PCGS grade

J.V. McDermott - Roy Pahler - Floyd Farley - James Bennett Pryor Collection - Bowers & Merena 1/1996:126 - Dick Osburn - Bowers & Merena 8/2011:7026, $21,850
#1 MS62 PCGS grade
#1 MS62 estimated grade

Superior 8/1975:573 - James Bennett Pryor Collection - Bowers & Merena 1/1996:125 - American Numismatic Rarities 1/2005:541 - Eugene H. Gardner Collection - Heritage 10/2014:98486, $13,512.50
#5 AU58 PCGS grade