1848 H10C Medium Date MS63
Certification #30932420,
PCGS #4338
Expert Comments
Ron Guth
The "Medium" Date 1848 Half Dime utilizes the normal Half Dime logotype for this year. Conversely, the "Large" Date was created when a Mint engraver inadvertently used a Dime logotype to punch the date into the die. There is a clear difference in the size of the two logotypes, with the large date overlapping the base of Liberty by an obvious margin.
Of the two sizes, the Large Date is slightly scarcer than the Medium Date.
Designer
Robert Ball Hughes/Christian Gobrecht
Diameter
15.90 millimeters
Metal
90% Silver, 10% Copper
Region
The United States of America
Price Guide
PCGS Population
Auctions - PCGS Graded
Auctions - NGC Graded
Rarity and Survival Estimates

Learn More
65 or Better
300
All Grades
75
60 or Better
4
65 or Better
R-6.4
All Grades
R-8.2
60 or Better
R-9.8
65 or Better
12 / 36 TIE
All Grades
14 / 36 TIE
60 or Better
3 / 36 TIE
65 or Better
22 / 79 TIE
All Grades
23 / 79 TIE
60 or Better
5 / 79 TIE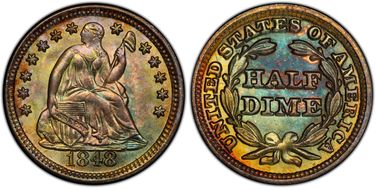 #1 MS66 PCGS grade

Bob R. Simpson Collection - Tom Bender Collection
#2 MS65 PCGS grade

Heritage 6/2013:3155, $3,055
#2 MS65 PCGS grade

Joseph O'Connor, sold privately in 2/2004 - Eugene H. Gardner Collection - Heritage 5//2015:98166, $3,525
#4 MS65 estimated grade

Rod Sweet Collection - Bowers & Merena 3/2004:1089 - American Numismatic Rarities 8/2006:269, not sold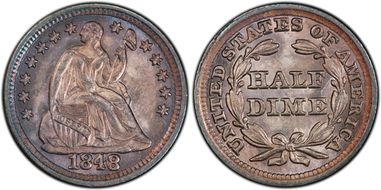 #5 MS64+ PCGS grade