1849 $10 Mormon XF40
Certification #16171225,
PCGS #10271
Expert Comments
P. Scott Rubin
The Mormon 1849 $10 Gold is one of the rarest of the territorial gold issues. It is considered a rarity 7 (or 4 to 12 known); approximately ten examples are known to exist today (January, 2014). The Mormon $10 was one of the first, if not the first, coins struck from California gold rush gold.
The Mormon Tens were first struck in December, 1848, with records showing that only twenty-five coins were struck on the first day of minting and another twenty-one struck one week after the first striking. Records also show that five of the first day's striking were paid out on December 12th, 1848, even though these coins bore the date of 1849.
Four denominations of 1849-dated Mormon gold coins are known, but only the Ten Dollar includes the designation "PURE GOLD" and lacks the letters "G.S.L.C.P.G." (which stands for "Great Salt Lake City Pure Gold" and which is on the $2½, $5 and $20 coins).
The story is that members of the Mormon Battalion of the U.S. Army, who had fought in the Mexican War, worked for James Marshall helping to construct a saw mill for Sutter when gold was first discovered. On their return to Utah, they brought some of this gold back with them, and it was used to make the first Mormon gold coins.
Diameter
0.00 millimeters
Region
The United States of America
Price Guide
PCGS Population
Auctions - PCGS Graded
Auctions - NGC Graded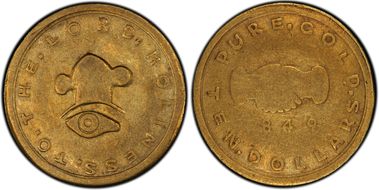 #1 AU58 PCGS grade

Emil Justh Collection - Henry Griswold Sampson 4/1884:100, $16; Frank Dietrich Collection - Charles Steigerwalt 6/1884:296, $22 - Capt. Andrew C. Zabriskie Collection - Henry Chapman 6/1909:458, $75 - Sheppard Collection - Chicago Coin Company (T.E. Leon and Virgil Brand), purchased as part of a six-piece set of Mormon gold coins on 12/31/1911 for $3,700; the set was sold privately in 1912 for $5,000 - H.O. Granberg, exhibited at the 1914 ANS Exhibition, sold privately in 1920 for $3,000 - Virgil Brand Collection - Waldo C. Newcomer Collection - Abe Kosoff 1948 FPL - Charles M. Williams Collection - Kosoff's 1951 FPL - Henry Clifford Collection, sold privately to the Clifford-Kagin Collection - Robert Campbell - Donald Kagin - Robert Rhue - Paul Padget - Donald Kagin - Stuart Levine - Riverboat Collection - Heritage 4/2014:5455, $705,000

Did Granberg sell the Mormon set or just the $10 for $3,000? Newcomer's inventory lists the coin as "Very Fine for issue" and shows his purchase price at $1,150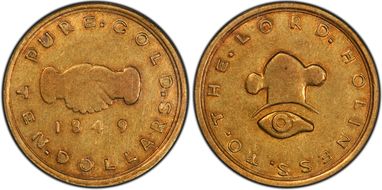 #2 AU53 PCGS grade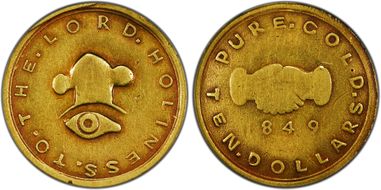 #3 XF40 PCGS grade
#4 VF35 PCGS grade