1850 50C AU58+
Certification #24229737,
PCGS #6264
Expert Comments
Ron Guth
Usually, the mintage for a coin struck at the Philadelphia Mint is larger than that of similar-dated coins struck at the subsidiary, or branch, Mints. However, that is not always the case because sometimes the Philadelphia Mint is distracted by other projects. Such was the case in 1850. With large amounts of gold coming in from California, the Philadelphia Mint focused on producing the new $20 gold piece, the new-ish Gold Dollar, and the Quarter Eagle. In that environment, Mint employees at Philadelphia struck only 227,000 Half Dollars -- a record low for that denomination since 1815.
As might be expected, the 1850 Half Dollar is scarce in all grades, rare in Mint State, and extremely rare above MS64. The strike quality of this date is inconsistent. We've seen everything from fully struck examples, those that have weak stars or weak talons and feathers on the reverse, and everything in-between. MS63 to MS64 seem to be the typical grades for this date.
Designer
Thomas Sully/Christian Gobrecht
Diameter
30.00 millimeters
Metal
90% Silver, 10% Copper
Region
The United States of America
Price Guide
PCGS Population
Auctions - PCGS Graded
Auctions - NGC Graded
Rarity and Survival Estimates

Learn More
65 or Better
600
All Grades
50
60 or Better
3
65 or Better
R-5.8
All Grades
R-8.5
60 or Better
R-9.8
65 or Better
27 / 66 TIE
All Grades
32 / 66 TIE
60 or Better
13 / 66 TIE
65 or Better
48 / 126 TIE
All Grades
51 / 126 TIE
60 or Better
18 / 126 TIE
#1 MS67 PCGS grade

William M. Friesner Collection - Edouard Frossard 6/1894 - John M. Clapp Collection - John H. Clapp Collection, sold intact in 1942 - Louis E. Eliasberg, Sr. Collection - Bowers & Merena 4/1997:1949, $46,200 - Eugene H. Gardner Collection - Heritage 5/2015:98469, $117,500 - "Perfection 8A" Collection (PCGS Set Registry)
#2 MS65+ PCGS grade

Heritage 1/2004:5904, $23,000 - Bowers & Merena 11/2010:2005, $30,187.50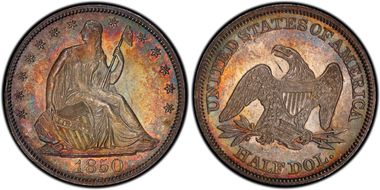 #3 MS64 PCGS grade

"TMae" Collection (PCGS Set Registry)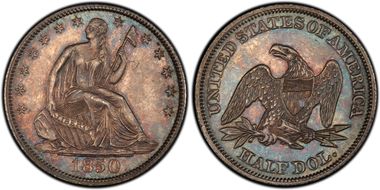 #3 MS64 PCGS grade
#3 MS64 PCGS grade

Virginia Cabinet Collection - Heritage 4/2015:4477, $5,640 - Legend Rare Coin Auctions 1/2017:190, $6,756.25