1852 10C AU55
Certification #34225620,
PCGS #4597
Owner's Comments
Nice coin, OBV luster around rim, rev nice luster through out, tick mark on check and arm, sharp strike OBV & REV, planchet crack on rev through America - - CAC CERTIFIED
Expert Comments
Ron Guth
The 1852 Dime is a relatively common date from the era prior to the 1853 weight change. It is also one of the easiest to find in Mint State. The most frequently-seen Uncirculated grade is MS63 and the dropoff on either side of that grade is almost completely symmetrical. On the high end, the very best examples are a trio of PCGS MS67s, two of which is illustrated above.
The strike qualities of this date are generally strong, though sometimes several of the stars and denticles may be weak.
Designer
Robert Ball Hughes/Christian Gobrecht
Diameter
17.90 millimeters
Metal
90% Silver, 10% Copper
Region
The United States of America
Price Guide
PCGS Population
Auctions - PCGS Graded
Auctions - NGC Graded
Rarity and Survival Estimates

Learn More
65 or Better
1000
All Grades
175
60 or Better
25
65 or Better
R-5.0
All Grades
R-7.2
60 or Better
R-9.0
65 or Better
27 / 34 TIE
All Grades
30 / 34 TIE
60 or Better
25 / 34 TIE
65 or Better
76 / 122 TIE
All Grades
84 / 122 TIE
60 or Better
78 / 122 TIE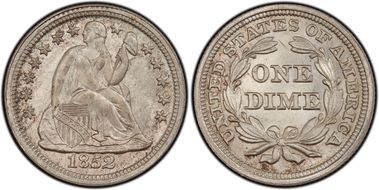 #1 MS67+ PCGS grade

Stack's/Bowers 7/2015:5127, $9,400 - "The Type Set" Collection (PCGS Set Registry)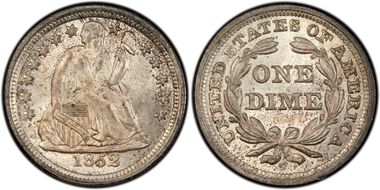 #2 MS67 PCGS grade

Stack's 3/2006:4244, $6,325 - Eugene H. Gardner Collection, Part I - Heritage 6/2014:30253, $6,463 - Heritage 11/2014:7487, $4,700 - Heritage 2/2015:3057, $5,640
#2 MS67 PCGS grade

Heritage 4/2016:3228, $4,230
#2 MS67 PCGS grade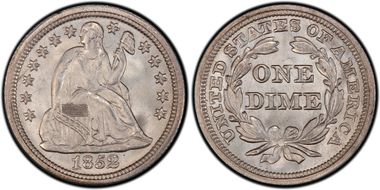 #5 MS66+ PCGS grade