1852 G$1 MS64+
Certification #34176994,
PCGS #7517
Expert Comments
David Akers (1975/88)
One of the half dozen most common gold dollars, and readily available even in gem condition.
---
Ron Guth
The 1852 Gold Dollar is one of the most common dates of the entire series. It is not nearly as common as the uber-plentiful 1853, but it is slightly less common than the 1851. Despite being such a common date, the 1852 is rather scarce in MS66 and better grades. However, there are some standouts, including a single PCGS MS69 and some PCGS MS68's. Collectors can find Mint State 1852 Gold Dollars with ease, so they should be picky. Look for fully struck examples that have minimal bagmarks and good eye appeal. Such coins will always be desirable.
Designer
James Barton Longacre
Diameter
12.70 millimeters
Metal
90% Gold, 10% Copper
Region
The United States of America
Price Guide
PCGS Population
Auctions - PCGS Graded
Auctions - NGC Graded
Rarity and Survival Estimates

Learn More
65 or Better
4000
All Grades
2250
60 or Better
75
65 or Better
R-4.2
All Grades
R-4.5
60 or Better
R-8.2
65 or Better
23 / 26 TIE
All Grades
23 / 26 TIE
60 or Better
14 / 26 TIE
65 or Better
72 / 81 TIE
All Grades
74 / 81 TIE
60 or Better
40 / 81 TIE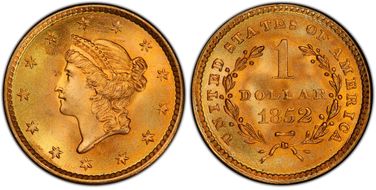 #1 MS69 PCGS grade

Bowers & Merena 10/2005:7421, $50,600 - Heritage 2/2006:2516, $92,000
#2 MS68 PCGS grade

Unnamed Financial Institution - Heritage 2/2002:6654, $29,900 - Paul Taylor Collection - Heritage 1/12/2005:30631, $39,100 - Stack's 7/2008:2301, $37,375 - Stack's 10/2008:1102, $37,375
#2 MS68 PCGS grade
#2 MS68 PCGS grade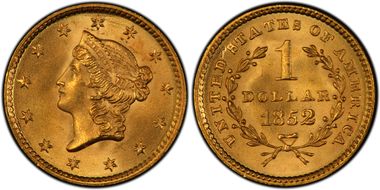 #5 MS67 PCGS grade