1853 "884" $20 U.S. Assay Office MS63
Certification #25264147,
PCGS #10010
1853 "884" $20 U.S. Assay Office
Expert Comments
Ron Guth
The U.S. Assay Office of Gold arose out of a need for an official, standardized coinage in and around the San Francisco gold fields. The Office operated in 1852 and 1853, then closed operations once a branch U.S. mint opened in San Francisco. Unfortunately, the total production of the U.S. Assay Office was insufficient to meet local demand and, according to researcher Don Kagin, "Ironically, an institution that was designed to replace the need for private gold minting actually preserved it (i.e., Moffat & Co.'s undebased coins from the first period continued in circulation) and in fact stimulated its resurgence (i.e., the second period of private gold coinage)."
In 1853, the U.S. Assay Office produced round, $10 and $20 gold coins. The official purity was designated on the coins as either 884 or 900 THOUS(ANDTHS), the equivalent of 88.4% and 90% pure gold, respectively. The 884 variety is definitely rarer than the 900 variety, and it is extremely difficult to locate in Mint State. We know of seven demonstrably different Mint State examples, a number that is smaller than the total of certification events at NGC and PCGS (clearly some resubmissions need to be removed from their respective reports). The two finest examples appear to be an MS64 from a 1999 Superior auction and a reddish-toned PCGS MS63 from the Riverboat Collection (sold for a record $176,250 in 2014.
Diameter
0.00 millimeters
Region
The United States of America
Price Guide
PCGS Population
Auctions - PCGS Graded
Auctions - NGC Graded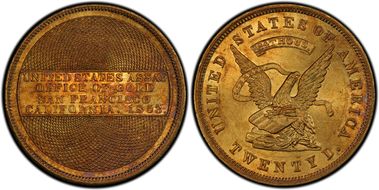 #1 MS63 PCGS grade

Frederic W. Geiss Collection - B. Max Mehl 2/1947:2215 - Amon G. Carter, Jr. Family Collection - Stack's 1/1984:1147, $22,000 - Riverboat Collection - Heritage 4/2014:5430, $176,250
#1 MS63 estimated grade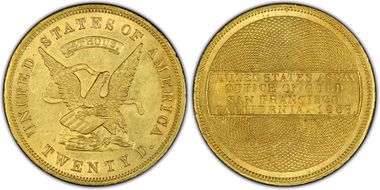 #4 MS62 PCGS grade

Heritage 1/2008:3443, $105,800
#4 MS62 PCGS grade

Max Kaplan, sold privately on 2/23/1965 - John J. Ford, Jr. Collection - Stack's 5/2004:366, $34,500 - Heritage 1/2005:10444, $47,150
#4 MS62 estimated grade