1853-O 25C Arrows and Rays MS63
Certification #41434362,
PCGS #5428
1853-O 25C Arrows and Rays
Expert Comments
Ron Guth
The 1853-O Quarter Dollar is far less common than the 1853 Arrows and Rays, but it is not a rare coin in circulated grades. In Mint State, it is quite scarce, with only a small handful of pieces in the MS62 to MS64 grade range (at PCGS). The auction record for this date is the NGC MS66 that sold way back in 2002 for $34,500.
Designer
Robert Ball Hughes/Christian Gobrecht
Diameter
24.30 millimeters
Metal
90% Silver, 10% Copper
Region
The United States of America
Price Guide
PCGS Population
Auctions - PCGS Graded
Auctions - NGC Graded
Rarity and Survival Estimates

Learn More
65 or Better
800
All Grades
20
60 or Better
0
65 or Better
R-5.4
All Grades
R-9.1
60 or Better
R-10.1
65 or Better
2 / 3
All Grades
1 / 3
60 or Better
1 / 3
65 or Better
75 / 114 TIE
All Grades
21 / 114 TIE
60 or Better
1 / 114
#1 MS65 estimated grade

Dixie Land Collection - John H. Clapp Collection, sold intact in 1942 - Louis E. Eliasberg, Sr. Collection - Bowers & Merena 4/1997:1455, $25,300 - Superior 8/2002:871, $34,500 - 1853 Collection - Stack's/Bowers 10/2014:10025, $28,200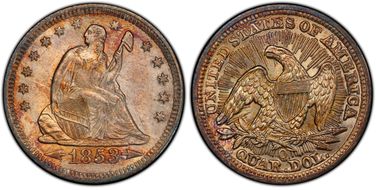 #2 MS64 PCGS grade

Heritage 1/2010:2512, $13,800 - Eugene H. Gardner Collection, Part IV - Heritage 10/2015:98426, $17,625 - Heritage 3/2016:4835, $18,800 - Heritage 4/2017:15711, $16,450
#2 MS64 PCGS grade

Premier Coin, sold privately in 7/2004 - Eugene H. Gardner Collection, Part I - Heritage 6/2014:30373, $15,275
#2 MS64 PCGS grade
#2 MS64 PCGS grade