1854 25C Arrows XF40
Certification #41749894,
PCGS #5432
Expert Comments
Ron Guth
In 1854, the Mint decided to remove the rays from the back of the Quarter Dollars. From a technical standpoint, the rays created difficulties in striking the coins (more crevies in which to force the metal), and the obverse arrowheads were sufficient to let the public know that the new coins were different from the old (they were lighter). In 1854, the Phildalphia Mint struck nearly 13 million Quarter Dollars, creating an ample supply for both commerce and collectors. As a result, Mint State examples are quite common, especially in MS63 and MS64. The finest examples top out at MS66.
Designer
Robert Ball Hughes/Christian Gobrecht
Diameter
24.30 millimeters
Metal
90% Silver, 10% Copper
Region
The United States of America
Price Guide
PCGS Population
Auctions - PCGS Graded
Auctions - NGC Graded
Rarity and Survival Estimates

Learn More
65 or Better
5000
All Grades
400
60 or Better
30
65 or Better
R-4.0
All Grades
R-6.2
60 or Better
R-8.9
65 or Better
6 / 6
All Grades
5 / 6
60 or Better
4 / 6
65 or Better
110 / 114 TIE
All Grades
94 / 114 TIE
60 or Better
56 / 114 TIE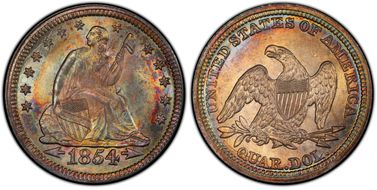 #1 MS67 PCGS grade

Eric P. Newman Numismatic Education Society, Part II - Heritage 11/2013:33370, $38,188 - The Type Set Collection (Oliver Jung) (PCGS Set Registry) - D.L. Hansen Collection
#1 MS67 PCGS grade

Heritage 8/2006:5179, $34,500
#1 MS67 PCGS grade

Rare Coins of New Hampshire, sold privately in 8/2007 - Eugene H. Gardner Collection - Heritage 10/2014:98364, $45,531.25
#1 MS67 PCGS grade
#1 MS67 PCGS grade