1854 50C Arrows N1
Certification #38907199,
PCGS #6279
Expert Comments
Ron Guth
In 1854, Half Dollars continued to show arrowheads on either side of the date, but the rays were removed from the reverse. The Philadelphia Mint produced nearly three million Half Dollars; the New Orleans Mint struck over five million Half Dollars; and the San Francisco Mint produced none (this newly opened Mint focused on gold coins in its first year).
While the mintage of the 1854 Half Dollar was small by modern standards, it was large for the time. However, type collectors add an increased level of demand that keep prices high for this date. Fortunately, collectors pulled aside an ample supply of Mint State examples, giving today's collectors lots of choices among a range of MS62's to MS64's. Gems are very rare and it is quite difficult to obtain exampels that are better than MS65. The strike on this date is generally good to above-average, but it is not unusual to find exampels with flatness on the high points or weakness in the radial lines of the stars.
Designer
Thomas Sully/Christian Gobrecht
Diameter
30.00 millimeters
Metal
90% Silver, 10% Copper
Region
The United States of America
Price Guide
PCGS Population
Auctions - PCGS Graded
Auctions - NGC Graded
Rarity and Survival Estimates

Learn More
65 or Better
3000
All Grades
200
60 or Better
15
65 or Better
R-4.4
All Grades
R-7.0
60 or Better
R-9.3
65 or Better
4 / 6
All Grades
4 / 6
60 or Better
4 / 6
65 or Better
114 / 126 TIE
All Grades
101 / 126 TIE
60 or Better
63 / 126 TIE
#1 MS67 estimated grade
#2 MS66 PCGS grade

Heritage 12/2004:6093, $11,040 - Heritage 7/2008:1693, $29,900 - Joseph C. Thomas Collection - Heritage 4/2009:2468, $17,250 - Dick Osburn Collection - Stack's/Bowers 8/2011:7046, $17,825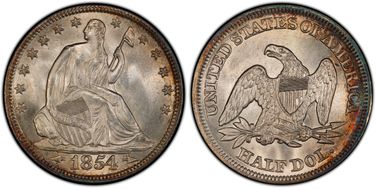 #2 MS66 PCGS grade

Stack's/Bowers 8/2016:3127, $13,512.50
#2 MS66 PCGS grade

Heritage 4/2018:4255, $31,200
#2 MS66 PCGS grade

Melrose Bay Collection - Heritage 7/2005:10210, $17,250