1854-O 50C Arrows N1
Certification #40321841,
PCGS #6280
Expert Comments
Ron Guth
The 1854-O Half Dollar had the largest mintage of any of the With Arrows type. In fact, the mintage of the 1854-O Half Dollar was the largest the series had seen since 1836. Thus, in terms of value, this date is very affordable in most grades and it offers a lot of "coin" for the money. Mint State examples are fairly plentiful and can be obtained in MS62 to MS64 with ease. Even MS65 and MS66 examples are available in sufficient quantities to meet most collector demand. Above MS66, all bets are off -- this is a very tough date in Superb grades and it is a true condition-rarity in MS67.
Occasionally, 1854-O Half Dollars suffer from an insufficent strike, but strongly-struck examples also exist.
Designer
Thomas Sully/Christian Gobrecht
Diameter
30.00 millimeters
Metal
90% Silver, 10% Copper
Region
The United States of America
Price Guide
PCGS Population
Auctions - PCGS Graded
Auctions - NGC Graded
Rarity and Survival Estimates

Learn More
65 or Better
5000
All Grades
400
60 or Better
40
65 or Better
R-4.0
All Grades
R-6.2
60 or Better
R-8.7
65 or Better
6 / 6
All Grades
6 / 6
60 or Better
6 / 6
65 or Better
125 / 126
All Grades
118 / 126 TIE
60 or Better
89 / 126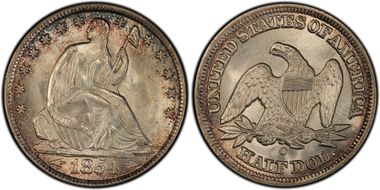 #1 MS67 PCGS grade

Pinnacle Rarities, sold privately in 1/2001 - Eugene H. Gardner Collection - Heritage 6//2014:30499, $44,062.50 (c) - "Jim O'Neal Type Set" Collection (PCGS Set Registry)
#1 MS67 PCGS grade
#1 MS67 estimated grade

Knoxville Collection - Jay Parrino (The Mint) - Goldbergs 2/2007:1443, $68,425
#1 MS67 estimated grade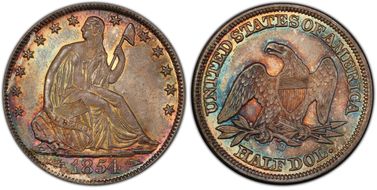 #5 MS66+ PCGS grade