1855/54 50C Arrows VF30
Certification #10069996,
PCGS #6282
Expert Comments
Ron Guth
This variety is an overdate that shows traces of an 854 beneath the final 1855 date. The arrows at each side of the date were placed there to signify a reduction of the weight of the coins in 1853. The arrows served as a quick identifier so that the old, higher weight coins could be removed from circulation quickly.
The overdate is roughly two to three times as rare as the "normal" date. Numerous circulated examples exist, but Mint State examples are scarce. PCGS has certified nine Mint State examples (as of May 2011), the finest of which is a single MS-66. The PCGS Condition Census includes grades from MS-62 to MS-66.
Designer
Thomas Sully/Christian Gobrecht
Diameter
30.00 millimeters
Metal
90% Silver, 10% Copper
Region
The United States of America
Price Guide
PCGS Population
Auctions - PCGS Graded
Auctions - NGC Graded
Rarity and Survival Estimates

Learn More
65 or Better
400
All Grades
18
60 or Better
3
65 or Better
R-6.2
All Grades
R-9.2
60 or Better
R-9.8
65 or Better
1 / 6
All Grades
2 / 6
60 or Better
2 / 6
65 or Better
21 / 126 TIE
All Grades
24 / 126
60 or Better
18 / 126 TIE
#1 MS66 PCGS grade

Heritage 1/2001:7800 - Bill Nagle, sold privately in 10/2004 - Eugene H. Gardner Collection - Heritage 10/2014:98494, $21,150
#2 MS65 PCGS grade

Steve Ivy 8/1980:2263 - James Bennett Pryor Collection - Bowers & Merena 1/1996:149 - George "Buddy" Byers Collection - Stack's 10/2006:1169, $13,800 - Heritage 1/2007:982, $17,250 - Stack's/Bowers 8/2011:7363, $17,825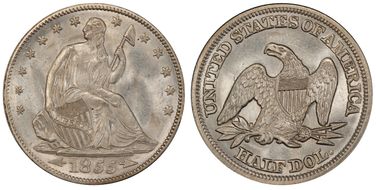 #3 MS64 PCGS grade

Dick Osburn Collection - Stack's/Bowers 8/2011:7049, $6,900 - Heritage 4/2014:4405, $4,846.88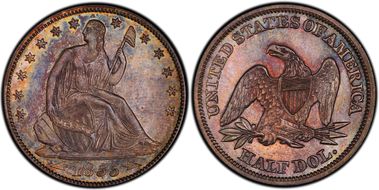 #3 MS64 PCGS grade

Eugene H. Gardner Collection - Heritage 10/2014:98493, $9,987.50
#3 MS64 PCGS grade