1855-O 50C Arrows XF45
Certification #21961645,
PCGS #6283
Expert Comments
Ron Guth
The 1855-O Half Dollar boasts the second largest mintage of the 1853-1855 With Arrows type. As a result, it is plentiful in virtually any grade, including most of the Mint State levels. Scores are available in a range of grades from MS62 to MS64. Even Gems can be obtained easily. For the connoisseurs of extreme quality, it is possible to obtain examples of this date in MS67. In any grade, the key is to find an example that featrures a bold strike, as some show weakness on several or many of the stars.
Designer
Thomas Sully/Christian Gobrecht
Diameter
30.00 millimeters
Metal
90% Silver, 10% Copper
Region
The United States of America
Price Guide
PCGS Population
Auctions - PCGS Graded
Auctions - NGC Graded
Rarity and Survival Estimates

Learn More
65 or Better
3500
All Grades
350
60 or Better
30
65 or Better
R-4.3
All Grades
R-6.3
60 or Better
R-8.9
65 or Better
5 / 6
All Grades
5 / 6
60 or Better
5 / 6
65 or Better
120 / 126 TIE
All Grades
115 / 126 TIE
60 or Better
83 / 126 TIE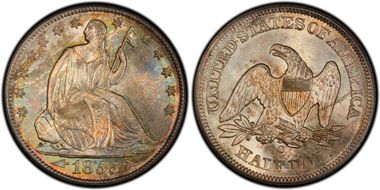 #1 MS67 PCGS grade

High Desert Collection (PCGS Set Registry)
#1 MS67 PCGS grade

Heritage 4/2012:5120, $54,625 - Eugene H. Gardner Collection - Heritage 10/2014:98495, $49,937.50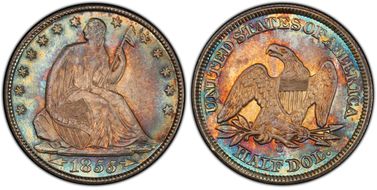 #3 MS66+ PCGS grade

Heritage 8/2016:4104, $17,625
#4 MS66 PCGS grade

Douglas C. Kaselitz Collection - Stack's/Bowers 7/2015:5180, $28,200 - D.L. Hansen Collection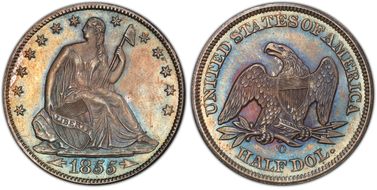 #4 MS66 PCGS grade

Pelletreau Collection - Stack's/Bowers 8/2015:426, $9,987.50