1855-S 50C Arrows XF45
Certification #08278499,
PCGS #6284
Owner's Comments
"The Frontenac Sale", Lot # 3261 at Bowers & Merena Auction, November 22, 1991, Lot # 3261, Price Realized $2090 ($1900 hammer +10% buyers fee), Lot was plated and described as the No Drapery variety, Breen 4864...."Pleasing surfaces and attractive central design details are lightly toned in pale shades of gold." Many thanks to Randy Wiley for help in tracking down the provenance.
Expert Comments
Ron Guth
The 1855-S Half Dollar is the only date of the 1853-1855 era that was struck with arrowheads to indicate the reduction in the weights of most U.S. silver coins under the Coinage Act of 1853. The 1955-S Half Dollar is an inherently rare date thanks to a small mintage, and it is especially elusive in Mint State. Only three Mint State examples have appeared on the market in recent years: the NGC MS67 from the Pryor and Osburn Collections; the PCGS MS64 from the Gardner Collection; and the PCGS MS62 now in the Hansen Collection. Even AU examples are pricey because they are also very rare and hard to find.
Designer
Thomas Sully/Christian Gobrecht
Diameter
30.00 millimeters
Metal
90% Silver, 10% Copper
Region
The United States of America
Price Guide
PCGS Population
Auctions - PCGS Graded
Auctions - NGC Graded
Rarity and Survival Estimates

Learn More
65 or Better
500
All Grades
2
60 or Better
1
65 or Better
R-6.0
All Grades
R-9.9
60 or Better
R-10.0
65 or Better
2 / 6
All Grades
1 / 6
60 or Better
1 / 6
65 or Better
36 / 126 TIE
All Grades
3 / 126 TIE
60 or Better
1 / 126 TIE
#1 MS66+ estimated grade

Lester Merkin (date unknown) - William Mitkoff, sold privately on 5/23/1973 - James Bennet Pryor Collection - Bowers & Merena 1/1996:151 - Dick Osburn Collection - Stack's/Bowers 8/2011:7052, $115,000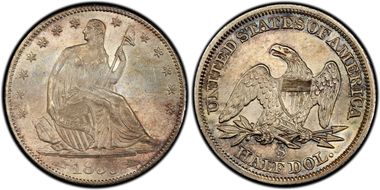 #2 MS64 PCGS grade

Bowers & Merena 6/1988:165 - Superior "Lee and Shaffer Collections" 9/1988:4458 - Superior "Boys Town" 5/1990:3807 - American Numismatic Rarities "Kennywood Collection" 1/2005:560 - Eugene H. Gardner Collection - Heritage 10/2014:98496, $41,125) - Heritage 4/2015:5086, $49,350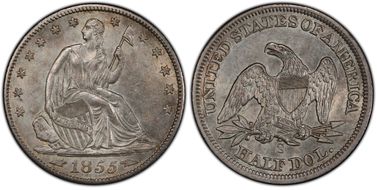 #3 MS62 PCGS grade

Heritage 8/2017:3978, $58,750
#3 MS62 estimated grade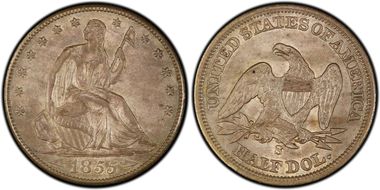 #5 AU58 PCGS grade

Heritage 8/2011:7166, $16,100