1855-S 50C Arrows XF40
Certification #82626063,
PCGS #6284
Expert Comments
Ron Guth
The 1855-S Half Dollar is the only date of the 1853-1855 era that was struck with arrowheads to indicate the reduction in the weights of most U.S. silver coins under the Coinage Act of 1853. The 1955-S Half Dollar is an inherently rare date thanks to a small mintage, and it is especially elusive in Mint State. Only three Mint State examples have appeared on the market in recent years: the NGC MS67 from the Pryor and Osburn Collections; the PCGS MS64 from the Gardner Collection; and the PCGS MS62 now in the Hansen Collection. Even AU examples are pricey because they are also very rare and hard to find.
Designer
Thomas Sully/Christian Gobrecht
Diameter
30.00 millimeters
Metal
90% Silver, 10% Copper
Region
The United States of America
Price Guide
PCGS Population
Auctions - PCGS Graded
Auctions - NGC Graded
Rarity and Survival Estimates

Learn More
65 or Better
500
All Grades
2
60 or Better
1
65 or Better
R-6.0
All Grades
R-9.9
60 or Better
R-10.0
65 or Better
2 / 6
All Grades
1 / 6
60 or Better
1 / 6
65 or Better
36 / 126 TIE
All Grades
3 / 126 TIE
60 or Better
1 / 126 TIE
#1 MS66+ estimated grade

Lester Merkin (date unknown) - William Mitkoff, sold privately on 5/23/1973 - James Bennet Pryor Collection - Bowers & Merena 1/1996:151 - Dick Osburn Collection - Stack's/Bowers 8/2011:7052, $115,000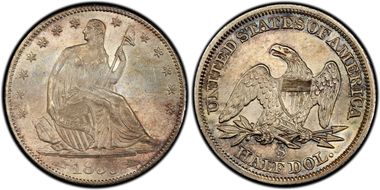 #2 MS64 PCGS grade

Bowers & Merena 6/1988:165 - Superior "Lee and Shaffer Collections" 9/1988:4458 - Superior "Boys Town" 5/1990:3807 - American Numismatic Rarities "Kennywood Collection" 1/2005:560 - Eugene H. Gardner Collection - Heritage 10/2014:98496, $41,125) - Heritage 4/2015:5086, $49,350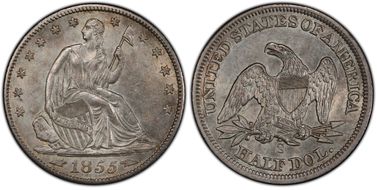 #3 MS62 PCGS grade

Heritage 8/2017:3978, $58,750
#3 MS62 estimated grade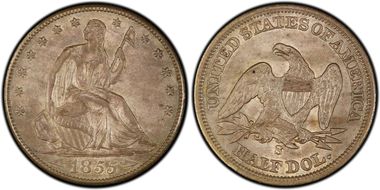 #5 AU58 PCGS grade

Heritage 8/2011:7166, $16,100