1857 10C MS65
Certification #10890325,
PCGS #4614
Owner's Comments
Mintage: 5,580,000
Obverse Dies: 16 Known

A common date in all grades, sixteen separate obverse dies being documented, though more obverse dies will be identified in the future.

Plate Coin: Fortin 116, A Well Struck and Lustrous Antebellum Gem that Exhibits Russet and Tan Patina at the Periphery.

Expert Comments
Ron Guth
Thanks to a large mintage, the 1857 Dime is a common coin in most grades. In fact, apart from the 1853 With Arrows Dime, the 1857 has the largest total population (per the PCGS Pop Report) of any Dime of the 1850's. Mint State examples are plentiful, and there are plenty of MS63's and MS64's to go around. Gems start to become scarce; in MS66 and better grades, the 1857 Dime is very hard to find. The highest level for this date is MS67.
Jerry Fortin has identified fifteen die varieties for this year.
Designer
Robert Ball Hughes/Christian Gobrecht
Diameter
17.90 millimeters
Metal
90% Silver, 10% Copper
Region
The United States of America
Price Guide
PCGS Population
Auctions - PCGS Graded
Auctions - NGC Graded
Rarity and Survival Estimates

Learn More
65 or Better
2000
All Grades
300
60 or Better
25
65 or Better
R-4.6
All Grades
R-6.4
60 or Better
R-9.0
65 or Better
34 / 34
All Grades
34 / 34
60 or Better
25 / 34 TIE
65 or Better
100 / 122 TIE
All Grades
100 / 122 TIE
60 or Better
78 / 122 TIE
#1 MS67 PCGS grade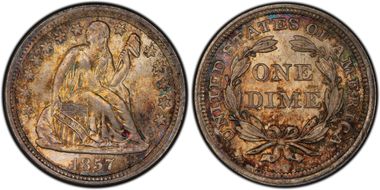 #2 MS66+ PCGS grade

Heritage 1/2014:3976, $5,875 - Tom Bender Collection
#2 MS66+ PCGS grade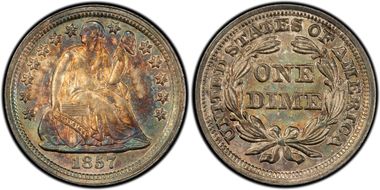 #3 MS66 PCGS grade

Heritage 10/2014:4691 (attributed as Fortin-104), $3,290 - Heritage 10/2015:4087 (attributed as Fortin-108), $2,079.75 - Heritage 1/2016:3736 (attributed as Fortin-108), $2,585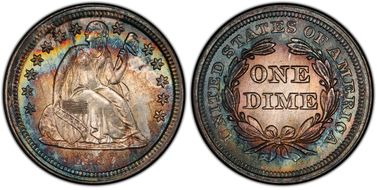 #3 MS66 PCGS grade

Legend Rare Coin Auctions 12/2016:166, $3,995