1858-O $20 XF45
Certification #21678596,
PCGS #8924
Owner's Comments
Totally original and very clean with great color and surfaces. Extremely hard to find like this.
Expert Comments
Doug Winter
The following information is from my eBook on Type One Liberty Head Double Eagles at http://doubleeaglebook.com/
The 1858-O is similar in overall and high-grade rarity to the 1857-O. These two dates have been linked together for a number of years, and their pricing seems to be linked as well. At one time, I regarded the 1858-O as the scarcer of the two but enough have come on the market in the last decade that I now regard it as just a touch less rare.
STRIKE: Most 1858-O double eagles are not well-struck. The hair shows weakness, especially on the curls around the face of Liberty and below the ear. The hair at the top of the head tends to be sharper than on the 1857-O and the bun sometimes lacks the weakness seen on its counterpart. Some 1858-O double eagles have weakness on the date and the first few stars on the left may have weakness as well. The reverse is better struck with most of the fine details bold, save for the tips of the wings. The mintmark can be faint and on certain lower grade coins it is difficult to see.
SURFACES: The surfaces are invariably heavily abraded with deep marks seen in the fields. This is a hard issue to locate with clean surfaces, and the few examples that exist without detracting marks command strong premiums.
LUSTER: This issue is seen with two types of luster. Most are frosty but show little remaining luster due either to past cleanings or hard wear. There are a small number known which are semi-prooflike on both the obverse and the reverse. The higher grade 1858-O double eagles with a frosty texture are, in my opinion, the most attractive survivors of this issue.
COLORATION: The natural coloration is a medium green-gold or, less often, medium to deep yellow gold. There are very few 1858-O double eagles remaining with attractive natural color as most have been cleaned, dipped, or processed.
EYE APPEAL: The great majority show below-average eye appeal. This is due to excessive marks in the fields, inferior luster, and a lack of originality. An 1858-O double eagle which is nice enough to be approved by CAC is very rare and generally commands a strong premium over a typical example.
INTERESTING VARIETIES: There are three varieties for this date, two of which are minor and not of interest. The one variety which is interesting is as follows:
Blundered Date: Traces of a third 8 are seen protruding from the lower curl into the field. This variety is easily overlooked but it is very rare and significant. It is estimated that three or so are currently known, and it is likely that more exist.
PROOFS: No Proofs were struck this year.
HOARDS: A total of six examples were located on the S.S. Republic. This included three in Uncirculated. In the early-to-mid 1990's, a group of 40 to 50 pieces in Very Fine to About Uncirculated entered the market. These appear to have come from Europe.
BUYING TIPS: Some collectors shy away from 1858-O double eagles with weakly impressed mintmarks. If the coin you are interested in purchasing is choice save for a not-quite-full mintmark, purchase it. Sophisticated Type One collectors tend to not mind weakly-struck mintmarks.
AUCTION RECORD: The current auction record for this date is $63,250 which is held by Heritage 1/11: 5256, graded MS62 by NGC. The Bass II: 795 coin, graded MS62 by PCGS and owned by a prominent Midwestern collector, would bring considerably more than this if it were to be available.
FINEST KNOWN: The single highest-graded example is an NGC MS63 which was last offered as Heritage 1/15: 4371. However, in my opinion, the PCGS MS62 mentioned above is a finer coin, and I would rank it as the best for this date.
RARITY:
TOTAL KNOWN: 225-275
BY GRADE:
Very Fine: 115-125
Extremely Fine: 60-80
About Uncirculated: 45-64
Uncirculated: 5-6
POPULATION FIGURES: As of the beginning of 2015, PCGS had graded just a single example in Uncirculated, an MS62. NGC had graded one in MS60PL, one in MS61, one in MS61PL, two in MS62, and one in MS63 for a total of six in Uncirculated. This includes two or three from the S.S. Republic. CAC has not approved any Mint State examples.
PERFORMANCE SINCE 2002: In the current market a choice Extremely Fine example of this date (equivalent to EF45) is worth $10,000-12,000. In 2002, a similar coin would have sold for $3,500-4,500. In the current market, a nice About Uncirculated example of this date (equivalent to AU55) is worth $27,500-35,000. In 2002, similar coin would have sold for $7,500-12,500. This 3x increase is typical of median rarity Type One New Orleans double eagles.
COMMENTS: When the first edition of this book was published in 2002, there were just two Uncirculated 1858-O double eagles known. The discovery of three Uncirculated examples on the S.S. Republic (including an amazing MS63) seriously changed the rarity profile of this date in higher grades. Two of the coins were designated as having Prooflike surfaces and this is interesting as the other high-grade 1858-O double eagles tended to have frosty surfaces.
---
David Akers (1975/88)
The 1858-O is rare in any condition and prohibitively rare in mint state. I have only seen two uncs (both 60's) and a small number of AU's. The overwhelming majority of known specimens grade VF or EF and the typical 1858-O has a semi-prooflike or prooflike surface. As a date, the 1858-O ranks right in the middle of the O-Mint issues (7th out of 13), just slightly more rare than the 1857-O and 1861-O.
Designer
James Barton Longacre
Diameter
34.00 millimeters
Metal
90% Gold, 10% Copper
Region
The United States of America
Price Guide
PCGS Population
Auctions - PCGS Graded
Auctions - NGC Graded
Rarity and Survival Estimates

Learn More
65 or Better
307
All Grades
2
60 or Better
0
65 or Better
R-6.3
All Grades
R-9.9
60 or Better
R-10.1
65 or Better
12 / 44 TIE
All Grades
4 / 44 TIE
60 or Better
1 / 44
65 or Better
20 / 148 TIE
All Grades
4 / 148 TIE
60 or Better
1 / 148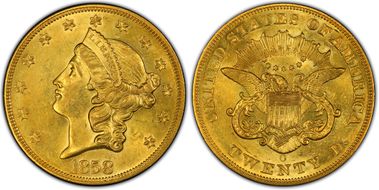 #1 MS62 PCGS grade

Lester Merkin 10/1966:382 - Harry W. Bass, Jr. Collection - Bowers & Merena 5/2000:795, $50,600 - D.L. Hansen Collection
#2 MS62 estimated grade

S.S. Republic Shipwreck - Heritage 1/2015:4371, $164,500
#3 MS60 PCGS grade
#3 MS60 PCGS grade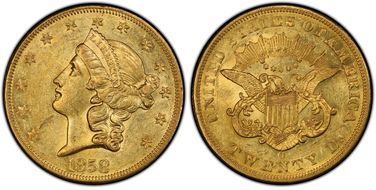 #5 AU58+ PCGS grade

Renz Family Collection - Heritage 1/2017:5995, $47,000