1858-O 10C MS63
Certification #22070078,
PCGS #4617
Owner's Comments
Mintage: 290,000
Obverse Dies: 1 Known


Only one pair of dies seen for 1858 New Orleans coinage. Soft strikes are the rule especially at the head, breast and shield. The reverse leaves and bow knot are also typically weak. A very rare date in Mint State.

Plate Coin: Fortin 101, Rose and Blue Toning, Wonderful Obverse Strike For 1858 New Orleans Mint Example, Reverse Shows Strike Weakness on Upper Wreath
Expert Comments
Ron Guth
In 1858, production of Dimes at the New Orleans Mint dropped substantially from the previous year. In fact, the 1858-O Dime has the smallest mintage since 1845 and one of the smallest mintages of ANY O-Mint Dime. Nonetheless, the 1858-O Dime carries only a small price premium in Mint State, making it one of the best values in American numismatics. MS60 to MS64 examples are decidedly scarce, Gems are very rare, and only one or two examples are known above MS65. The best example is the PCGS MS66+ formerly of the Eugene Gardner Collection. This is no surprise, knowing of Mr. Gardner's penchant for quality.
Designer
Robert Ball Hughes/Christian Gobrecht
Diameter
17.90 millimeters
Metal
90% Silver, 10% Copper
Region
The United States of America
Price Guide
PCGS Population
Auctions - PCGS Graded
Auctions - NGC Graded
Rarity and Survival Estimates

Learn More
65 or Better
300
All Grades
25
60 or Better
4
65 or Better
R-6.4
All Grades
R-9.0
60 or Better
R-9.8
65 or Better
7 / 34 TIE
All Grades
12 / 34 TIE
60 or Better
13 / 34 TIE
65 or Better
24 / 122 TIE
All Grades
27 / 122 TIE
60 or Better
28 / 122 TIE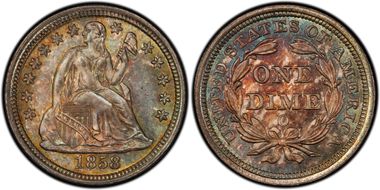 #1 MS66+ PCGS grade

Heritage 6/2004:6043 - Eugene H. Gardner Collection - Heritage 6/2014:30257, $21,150 - Legend Rare Coin Auctions 12/2014:38, not sold
#2 MS66 PCGS grade

Heritage 1/2007:871, $10,350
#2 MS66 estimated grade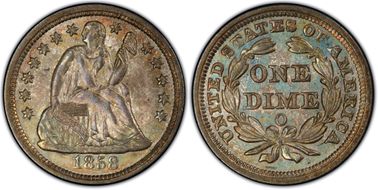 #4 MS65 PCGS grade

Bob R. Simpson Collection - Heritage 9/2010:3655, $9,200 - Tom Bender Collection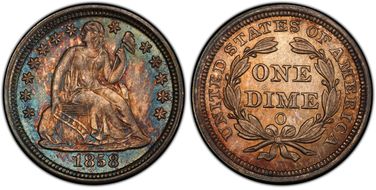 #4 MS65 PCGS grade