1858-S 10C AU55
Certification #60144593,
PCGS #4618
Owner's Comments
Mintage: 60,000
Obverse Dies: 3 Known

1858 San Francisco dimes are very scarce in any grade. In grades of VF or better, 1858-S dimes are more difficult to locate than either the 1856 or 1859 San Francisco dates. Extremely rare in Mint State as few examples are known.

Three obverse dies were paired with two reverses dies.

Plate Coin: Fortin 101, Choice About Uncirculated Example With Medium Gold/Brown Toning, Original and Problem Free, Formerly in Tim Cook Collection
Expert Comments
Ron Guth
The 1858-S Dime is a great date in a series full of rarities. The 1858-S Dime has a mintage that is identical to that of the 1859-S Dime (60,000 coins), and both dates boast the smallest mintage of any of the U.S. Dimes from the 1850's. Even in low grade, the 1858-S Dime is a recognized rarity, but in Mint State, it is virtually impossible to find one, let alone a nice one. The runaway star for this date is the PCGS MS66, formerly of the Eugene Gardner Collection and the price-record holder of $88,125. A strong candidate for second best is the Eliasberg example, graded MS64 in 1996, but not seen since then (to the best of our knowledge).
Researcher Jerry Fortin identified three different die varieties for the 1858-S Dime, which is a surprisingly large number for such a small mintage. According to Fortin, the three varieties are of roughly equal rarity.
Designer
Robert Ball Hughes/Christian Gobrecht
Diameter
17.90 millimeters
Metal
90% Silver, 10% Copper
Region
The United States of America
Price Guide
PCGS Population
Auctions - PCGS Graded
Auctions - NGC Graded
Rarity and Survival Estimates

Learn More
65 or Better
350
All Grades
8
60 or Better
1
65 or Better
R-6.3
All Grades
R-9.6
60 or Better
R-10.0
65 or Better
11 / 34
All Grades
5 / 34
60 or Better
1 / 34 TIE
65 or Better
37 / 122 TIE
All Grades
11 / 122 TIE
60 or Better
1 / 122 TIE
#1 MS66 PCGS grade

Stellar Collection - Stack's/Bowers, sold privately in 12/2012 - Eugene H. Gardner Collection - Heritage 6/2014:30258, $88,125
#2 MS64 estimated grade

Louis E. Eliasberg, Sr. Collection - Bowers & Merena 5/1996:1162, $10,780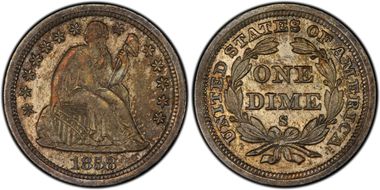 #3 MS63 PCGS grade

Heritage 4/2013:4185, $18,800
#3 MS63 PCGS grade
#5 MS62 PCGS grade