1858 $3 MS63
Certification #05653949,
PCGS #7978
Owner's Comments
Prooflike and swirling luster, well struck.Formerly of the Bass collection
Expert Comments
David Akers (1975/88)
The 1858 is the first in a long line of low mintage Philadelphia Mint three dollar gold pieces. Between 1858 and the last year of the series, 1889, only the 1859, 1874, and 1878 had mintages exceeding 7,200 pieces! Most known specimens of the 1858 are well worn with VF and EF examples predominating. Actually, an 1858 in any grade is rare and it is doubtful is more than 75-100 total pieces still exist. Strictly uncirculated specimens are natuarally very rare, although with the continual relaxing of grading standards (PCGS CoinFacts editors note: this was written in 1976), "uncs" are offered with more frequency today than they were ever in the past. I have seen four or five mint state pieces, including one gem, but, of course, a few more probably exist.
Designer
James Barton Longacre
Diameter
20.50 millimeters
Metal
90% Gold, 10% Copper
Region
The United States of America
Price Guide
PCGS Population
Auctions - PCGS Graded
Auctions - NGC Graded
Rarity and Survival Estimates

Learn More
65 or Better
300
All Grades
15
60 or Better
1
65 or Better
R-6.4
All Grades
R-9.3
60 or Better
R-10.0
65 or Better
5 / 41 TIE
All Grades
6 / 41
60 or Better
1 / 41 TIE
65 or Better
5 / 41 TIE
All Grades
6 / 41
60 or Better
1 / 41 TIE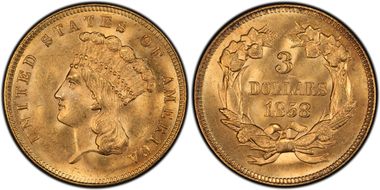 #1 MS65 PCGS grade

Great Lakes Collection - Hanks & Associates, sold privately as an entire collection in 10/2005 - D. Brent Pogue Collection - Stack's/Bowers & Sotheby's 2/2016:3098, $49,350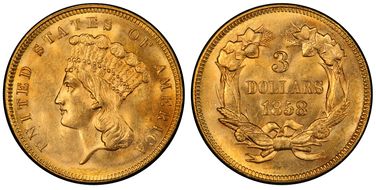 #2 MS64+ PCGS grade

American Numismatic Rarities 8/2006:1300, not sold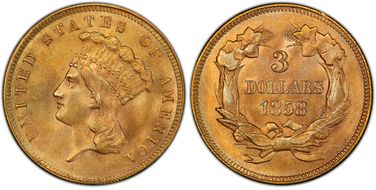 #3 MS64 PCGS grade

Bob R. Simpson Collection
#4 MS63 PCGS grade
#4 MS63 PCGS grade