1859-S 10C AU55
Certification #03523603,
PCGS #4621
Owner's Comments
Mintage: 60,000
Obverse Dies: 1 Known

The second rarest San Francisco mint Seated dime above VF grade after the 1858-S date. Extremely rare in Mint State with few certified by the top grading services. A single die pair is known for the 1859 San Francisco coinage.

In the past three years, several certified AU examples have appeared at auction bringing strong monies well above Coin World's CoinValues. A lone example is known in PCGS MS65 grade and sold in excess of $50,000 at auction.

Plate Coin: Fortin 101, White and Lustrous With Faint Gray Toning Near the Rims, Bold Strike With No Signs of Reverse Roughness as is Typical for This Date
Expert Comments
Ron Guth
The 1859-S Dime is one of the keys of the Seated Liberty Dime series. The 1859-S Dime has a mintage that is identical to that of the 1858-S Dime (60,000 coins), and both dates boast the smallest mintage of any of the U.S. Dimes from the 1850's. Both are nearly impossible to find in Mint State and the 1859-S is the more rare of the two dates by a small margin. The best example is a single PCGS MS65 which has sold at various times over the past dozen years in a range from $75,900 to $100,000. It is the finest example by a two full points.
Researcher Jerry Fortin identified only die variety for this year.
Designer
Robert Ball Hughes/Christian Gobrecht
Diameter
17.90 millimeters
Metal
90% Silver, 10% Copper
Region
The United States of America
Price Guide
PCGS Population
Auctions - PCGS Graded
Auctions - NGC Graded
Rarity and Survival Estimates

Learn More
65 or Better
200
All Grades
2
60 or Better
1
65 or Better
R-7.0
All Grades
R-9.9
60 or Better
R-10.0
65 or Better
1 / 34 TIE
All Grades
1 / 34
60 or Better
1 / 34 TIE
65 or Better
5 / 122 TIE
All Grades
2 / 122
60 or Better
1 / 122 TIE
#1 MS65 PCGS grade

Superior 2/2003:1356, $92,000 - American Numismatic Rarities 8/2004:304, $75,900 - Stack's/Bowers 8/2011:7289, not sold
#2 MS63 PCGS grade

R.M. Smythe 11/2003:1105 - Eugene H. Gardner Collection - Heritage 10/2014:98263, $25,850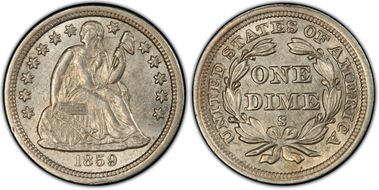 #3 MS62 PCGS grade

Bob Simpson Collection of Seated Dimes - Heritage 9/2010:3658, $25,300
#4 AU58 PCGS grade
#4 AU58 PCGS grade