1859 25C PR67+
Certification #06635946,
PCGS #5555
Owner's Comments
CAC, Scher, PCGS pop 2. Amazing toning, as nice as they come!
Expert Comments
Ron Guth
Proof 1859 Quarter Dollars are fairly common, though that is a relative term since a mintage of approximately 800 pieces is very small to begin with. However, in the arena of numismatics, if a collector wants a Proof 1859 Quarter Dollar, he/she can find one with relative ease. The vast majority of Proof 1859 Quarter Dollars are non-Cameos. Approximately 10 percent are Cameos, though that percentage may be as high as 20 percent. Deep Cameo 1859 Quarter Dollars are exceedingly rare.
PR63 and PR64 are the most frequently seen grades. Any examples in PR66 or better are very rare, and the best examples top out at PR67.
Designer
Robert Ball Hughes/Christian Gobrecht
Diameter
24.30 millimeters
Metal
90% Silver, 10% Copper
Region
The United States of America
Price Guide
PCGS Population
Auctions - PCGS Graded
Auctions - NGC Graded
Rarity and Survival Estimates

Learn More
65 or Better
250
All Grades
225
60 or Better
40
65 or Better
R-6.6
All Grades
R-6.7
60 or Better
R-8.7
65 or Better
16 / 22
All Grades
16 / 22
60 or Better
15 / 22
65 or Better
21 / 54
All Grades
21 / 54
60 or Better
21 / 54 TIE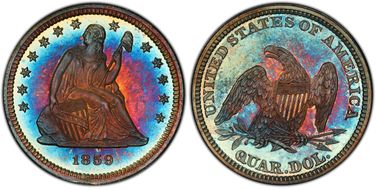 #1 PR67+ PCGS grade

Bruce Scher Collection - "Perfection 5" Collection (PCGS Set Registry)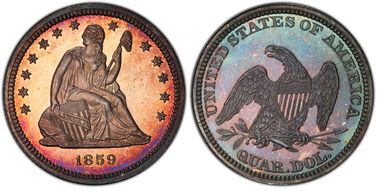 #2 PR67 PCGS grade

Heritage 1/2018:4831, $11,400 - D.L. Hansen Collection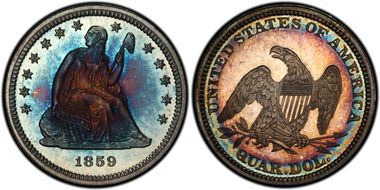 #2 PR67 PCGS grade

Eric P. Newman Numismatic Education Society - Heritage 11/2013:33374, $19,975 - Bob R. Simpson Collection
#2 PR67 PCGS grade
#5 PR66 PCGS grade