1860-S 10C MS63
Certification #05353573,
PCGS #4622
Owner's Comments
Mintage: 140,000
Obverse Dies: 2 Known

The last With Stars San Francisco date before the transition to the With Legend obverse and the Cereal Wreath reverse design. A difficult date in circulated grades becoming rare in Mint State. Two pairs of obverse and reverse dies were employed for 1860 San Francisco coinage.

Plate Coin: Fortin 101, Well Struck, Pleasing Silver-Gray With Subtle Powder-Blue and Peach Accents, and Satiny Surfaces
Expert Comments
Ron Guth
The 1860-S Dime is the last of the Stars Obverse Dimes. The other two 1860-dated Dimes (1860 and 1860-O) both have the new "legend" obverse. Considering some of the multi-million mintages that preceded it, the 1860-S comes in as a scarce date, with only 140,000 minted. The 1860-S Dime compares favorably with the 1861-S in terms of mintage and value, though more of the former have been graded by PCGS than the latter. In Mint State, the 1860-S Dime is quite scarce, appearing most frequently in MS62 and MS63. Gems are very rare, with only three PCGS MS65s at the top of the condition ladder. In general, this date is well struck, but because of its remote origins, often comes heavily bagmarked.
Designer
Robert Ball Hughes/Christian Gobrecht
Diameter
17.90 millimeters
Metal
90% Silver, 10% Copper
Region
The United States of America
Price Guide
PCGS Population
Auctions - PCGS Graded
Auctions - NGC Graded
Rarity and Survival Estimates

Learn More
65 or Better
400
All Grades
25
60 or Better
4
65 or Better
R-6.2
All Grades
R-9.0
60 or Better
R-9.8
65 or Better
12 / 34 TIE
All Grades
12 / 34 TIE
60 or Better
13 / 34 TIE
65 or Better
40 / 122 TIE
All Grades
27 / 122 TIE
60 or Better
28 / 122 TIE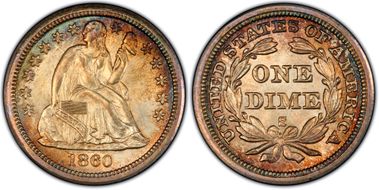 #1 MS65 PCGS grade

Bob R. Simpson Collection - Heritage 9/2010:3659, $40,250 - Eugene H. Gardner Collection, Part III - Heritage 5/2015:98235, $37,600 - Tom Bender Collection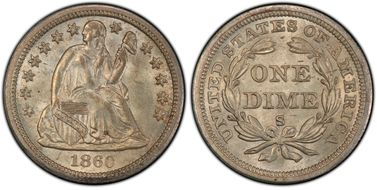 #1 MS65 PCGS grade

Louis E. Eliasberg, Sr. Collection - Bowers & Merena 5/1996:1167, $5,500 - Sun Tzu Collection - Heritage 8/2017:3928, $28,200 - Legend Rare Coin Auctions 7/2018:272, $42,300 - D.L. Hansen Collection
#1 MS65 estimated grade

Bowers & Merena 1/2005:358, $21,850 - Joseph C. Thomas Collection - Heritage 4/2009:2252, $14,950
#4 MS64 PCGS grade
#5 MS64 PCGS grade