1860 $3 MS64
Certification #11787099,
PCGS #7980
Expert Comments
David Akers (1975/88)
This date is scarce in all grades and is very rare in choice uncirculated condition. Although there are three more auction records in our auction survey for this date in unc. than there are for the 1859, I have seen many more nice 1859's than I have 1860's.
Designer
James Barton Longacre
Diameter
20.50 millimeters
Metal
90% Gold, 10% Copper
Region
The United States of America
Price Guide
PCGS Population
Auctions - PCGS Graded
Auctions - NGC Graded
Rarity and Survival Estimates

Learn More
65 or Better
1000
All Grades
140
60 or Better
6
65 or Better
R-5.0
All Grades
R-7.6
60 or Better
R-9.7
65 or Better
26 / 41 TIE
All Grades
23 / 41 TIE
60 or Better
10 / 41 TIE
65 or Better
26 / 41 TIE
All Grades
23 / 41 TIE
60 or Better
10 / 41 TIE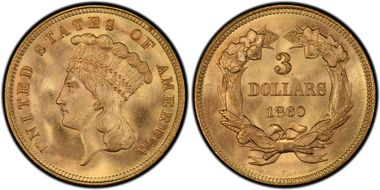 #1 MS67+ PCGS grade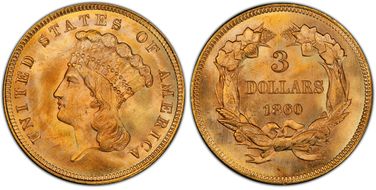 #2 MS67 PCGS grade

Harold S. Bareford Collection - Stack's 12/1978:129 - Harry W. Bass, Jr. Collection - Bowers & Merena 10/1999:671, $27,600 - American Numismatic Rarities 7/2004:89, $74,750 - American Numismatic Rarities 3/2005:621, $69,000 - Simpson Collection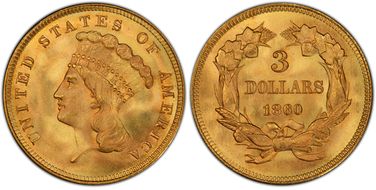 #2 MS67 PCGS grade

David & Sharron Akers Collection - Heritage 1/2014:5384, $114,562.50
#4 MS66 PCGS grade
#4 MS66 estimated grade