1862 $3 MS64
Certification #12249394,
PCGS #7983
Owner's Comments
Very well struck, darker orange coloring, heavily polished die-disappearing neck variety.
Expert Comments
David Akers (1975/88)
In my opinion, the 1862 is the most underrated three dollar gold piece in choice uncirculated condition in the 1860's. The 1865 is more rare to be sure, but most collectors and dealers are well aware of its rarity. However, the 1862 has gone largely unnoticed, and in my experience the 1862 is much more rare in full mint state than the more highly regarded 1863. The diagonal field striations that are seen on many business strike 1861's are even more prominent on most regular issue 1862's.
Designer
James Barton Longacre
Diameter
20.50 millimeters
Metal
90% Gold, 10% Copper
Region
The United States of America
Price Guide
PCGS Population
Auctions - PCGS Graded
Auctions - NGC Graded
Rarity and Survival Estimates

Learn More
65 or Better
650
All Grades
80
60 or Better
10
65 or Better
R-5.7
All Grades
R-8.2
60 or Better
R-9.5
65 or Better
19 / 41 TIE
All Grades
18 / 41 TIE
60 or Better
16 / 41 TIE
65 or Better
19 / 41 TIE
All Grades
18 / 41 TIE
60 or Better
16 / 41 TIE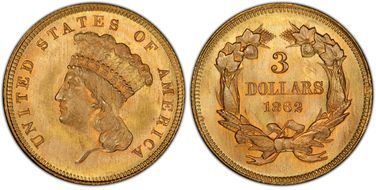 #1 MS66 PCGS grade

Richard C. Jewell Collection - American Numismatic Rarities 3/2005:625, $36,800 - Bob R. Simpson Collection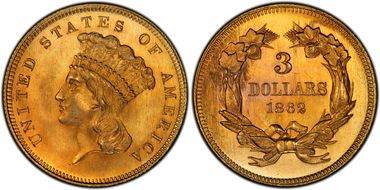 #1 MS66 PCGS grade

Hank Daughtry Collection - Hanks & Associates, sold privately in 8/2006 - D. Brent Pogue Collection - Stack's/Bowers & Sotheby's 2/2016:3103, $39,950
#3 MS65 PCGS grade
#3 MS65 PCGS grade
#3 MS65 PCGS grade