1863-S 10C MS64
Certification #21861241,
PCGS #4638
Owner's Comments
Mintage: 157,500
Obverse Dies: 1 Known

Strike weakness is common for 1863 San Francisco coinage. Examples are often seen with a flat head and weakness in the letters (OF AME)RICA. Reverse weakness will be found on the bow knot and lower wreath. Only one die pair is known.

Scarce in all circulated grades and becomes difficult in problem free EF-AU. Another San Francisco mint date that is rare in Mint State.

Plate Coin: Fortin 101, A Silky, Satiny Specimen With Intense Cartwheel Luster. Faint Sky Blue, Gold and Rose Toning, Well Struck Throughout. Formerly in the Frog Run, Lovejoy and Reed Hawn Collections

Expert Comments
Ron Guth
In 1863, the bulk of the Dime production occurred at the San Francisco Mint. In fact, San Francisco Mint employees produced more than ten times the number of Dimes as their counterparts at the Philadelphia Mint. Despite the larger mintage, the 1863-S Dime is more difficult to locate in Mint State than the 1863, nor does it come as nice. The best known 1863-S Dime is a single NGC MS66, but the most valuable is the PCGS MS65+ from the Simpson Collection (sold for a record $48,875 in 2008).
Liberty Seated Dime expert, Gerry Fortin, has identified only a single die pair for this year, meaning that all 157,500 Dimes came from the same dies.
Designer
James Barton Longacre
Diameter
17.90 millimeters
Metal
90% Silver, 10% Copper
Region
The United States of America
Price Guide
PCGS Population
Auctions - PCGS Graded
Auctions - NGC Graded
Rarity and Survival Estimates

Learn More
65 or Better
250
All Grades
20
60 or Better
3
65 or Better
R-6.6
All Grades
R-9.1
60 or Better
R-9.8
65 or Better
4 / 67 TIE
All Grades
9 / 67 TIE
60 or Better
12 / 67 TIE
65 or Better
11 / 122 TIE
All Grades
23 / 122 TIE
60 or Better
28 / 122 TIE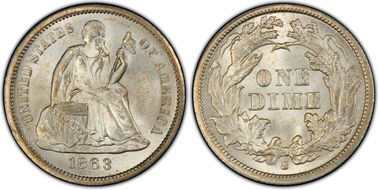 #1 MS65+ PCGS grade

Heritage 2/2008:107, $48,875 - Bob R. Simpson Collection - Legend Rare Coin Auctions 12/2015:138, $43,475
#1 MS65 PCGS grade
#3 MS65 estimated grade

Jim O'Donnell, sold privately in 5/2001 - Eugene H. Gardner Collection - Heritage 5/2015:98239, $30,550
#4 MS64 PCGS grade
#4 MS64 PCGS grade