1866 5C Rays MS66
Certification #08405563,
PCGS #3790
Expert Comments
Ron Guth
In 1866, the U.S. government introduced a new 5 Cent piece made of nickel as an alternative for the silver Half Dime. The two coins were issued side-by-side through 1873, after which the Half Dime was discontinued and the "Nickel" became the coin of the land. The new metal, because it was so hard, made it difficult to strike the coins, and the dies suffered frequent cracking. Part of the problem was the intricate reverse, where stars were squeezed tightly between small rays surrounding the large "5". Ultimately, the rays were removed from the dies mid-1867, but this did not solve the cracking problem entirely.
High grade examples of this first-year-of-issue are readily available in grades all the way up to MS66, where PCGS has graded over 50 examples. As already mentioned, collectors should seek out well-struck examples (to the extent they are available), and avoid examples with natural flaws or excessive and/or large carbon spots.
Designer
James Barton Longacre
Diameter
20.50 millimeters
Metal
75% Copper, 25% Nickel
Region
The United States of America
Price Guide
PCGS Population
Auctions - PCGS Graded
Auctions - NGC Graded
Rarity and Survival Estimates

Learn More
65 or Better
40000
All Grades
3000
60 or Better
500
65 or Better
R-2.6
All Grades
R-4.4
60 or Better
R-6.0
65 or Better
2 / 2
All Grades
2 / 2
60 or Better
2 / 2
65 or Better
15 / 19 TIE
All Grades
17 / 19 TIE
60 or Better
17 / 19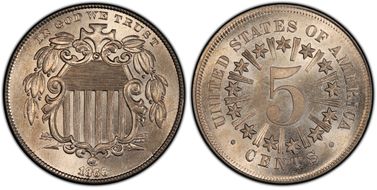 #1 MS66+ PCGS grade

Heritage 1/2016:4735, $4,465 - "Jesh" Collection (PCGS Set Registry)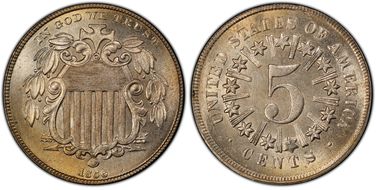 #1 MS66+ PCGS grade

"Greenbrier River" Collection (PCGS Set Registry)
#1 MS66+ PCGS grade

Just Having Fun Collection - Stack's/Bowers 11/2013:2013 - Cardinal Collection Educational Foundation - Stack's/Bowers 11/2015:20014, $11,456.25
#1 MS66+ PCGS grade

Heritage 1/2016:4734, $6,756.25
#1 MS66+ PCGS grade