1866-S 50C No Motto XF45
Certification #21003222,
PCGS #6315
Owner's Comments
I can't understand why this coin is not AU!! Super original gray tone, much more detail than the Reiver specimen that was also graded XF45.
Expert Comments
Ron Guth
1866 was a transitional year for U.S. coins, with the big change being the addition of the motto "IN GOD WE TRUST" to most gold and silver coins. The authorizing legislation for this change was the Coinage Act of March 3, 1865, which ordered that the motto be placed on all gold and silver coins that "shall admit the inscription theron" (which, in layman's terms, means those coins that were large enough to accept the motto without it being too small or crowding out the design). Compliance with the Act of March 1865 meant that new dies had to be prepared at Philadelphia, not only for their internal use, but for the use of the branch mint at San Francisco. Unfortunately, new With Motto reverses were not sent to San Francisco until March 1866. In the interim period between January 1, 1866 and the arrival of the new dies, the San Francisco Mint produced a small number of 1866 Half Dollars with the old No Motto reverse (still in stock from the previous year). The result is a bit of a rarity in the series -- a date which is hard to find in any condition, and extremely difficult to locate in Mint State.
For many years, the finest 1866-S No Motto Half Dollar was the PCGS MS65, which was later upgraded to MS65+. However, in 2013, portions of the Eric P. Newman collection hit the market. Included in that collection was a stunning NGC MS67 example of this date. That coin, since crossed to PCGS MS67, now resides in the Simpson Collection and it remains the undisputed leader of the PCGS CoinFacts Condition Census.
Designer
Thomas Sully/Christian Gobrecht
Diameter
30.00 millimeters
Metal
90% Silver, 10% Copper
Region
The United States of America
Price Guide
PCGS Population
Auctions - PCGS Graded
Auctions - NGC Graded
Rarity and Survival Estimates

Learn More
65 or Better
600
All Grades
10
60 or Better
1
65 or Better
R-5.8
All Grades
R-9.5
60 or Better
R-10.0
65 or Better
27 / 66 TIE
All Grades
10 / 66 TIE
60 or Better
1 / 66 TIE
65 or Better
48 / 126 TIE
All Grades
15 / 126 TIE
60 or Better
1 / 126 TIE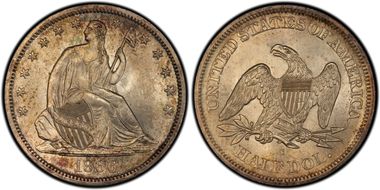 #1 MS67 PCGS grade

"Colonel" E.H.R. Green - Green Estate - Partnership of Eric P. Newman & B.G. Johnson (St. Louis Stamp & Coin Co.) - Eric P. Newman, who paid $40.00 - Eric P. Newman Numismatic Education Society - Heritage 11/2013:33477, $164,500 - Bob R. Simpson Collection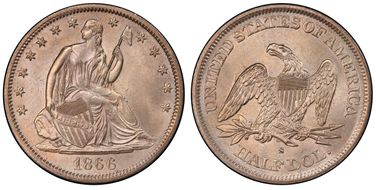 #2 MS65 PCGS grade

Heritage 7/1993:6348 - Legend Numismatics, sold privately in 10/2004 - Eugene H. Gardner Collection - Heritage 6/2014:30508, $70,500 - Stack's/Bowers 8/2015:10110, not sold - Stack's/Bowers & Sotheby's 10/2015:39, not sold
#2 MS65 PCGS grade

Superior 10/1989:3734, $41,800
#4 MS64 estimated grade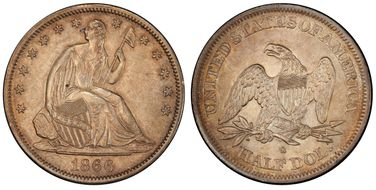 #5 MS63 PCGS grade