1867 $3 MS64
Certification #05995486,
PCGS #7988
Expert Comments
David Akers (1975/88)
The 1867 has the second lowest number of total appearances in our auction survey of any Philadelphia Mint three dollar gold piece in the 1860's. Overall, it is 13th in the entire series according to rarity by number of appearances in our 238 catalogue auction survey and tied for 16th with three other dates accordig to rarity by average grade. Although the 1867 is rare in full mint state, I have seen perhaps a half a dozen very choice specimens that graded MS-65 or better. All were fully proof-like and looked deceptively like proofs. However, proofs can be distinguished from proof-like first strike uncs by the position of the date. Business strikes have the date very low in the field, with the left upright serif of the 7 directly below the left foot of the A in DOLLARS. On proofs, the date is slightly higher in the field and more to the right, with the upright serif of the 7 centered below the middle of the A.
---
Ron Guth
In January 2014, Heritage sold an 1867 $3 Gold piece in PCGS MS67 for a whopping $141,000, setting a new record for this date. This particular coin had been held for decades by David Akers, the late author, researcher, and gold specialist who had a special penchant for $1 and $3 gold pieces. In 1990, Akers paid an amazing $100,000 for this coin, thus his return on investment was not so impressive for such a long interval of time, but the price he paid in 1990 gives some indication of how much competition he had back then, and how much he really wanted this coin. Akers was never shy about paying top dollar for great coins, and he considered this one of the most important "Threes" of all time.
Designer
James Barton Longacre
Diameter
20.50 millimeters
Metal
90% Gold, 10% Copper
Region
The United States of America
Price Guide
PCGS Population
Auctions - PCGS Graded
Auctions - NGC Graded
Rarity and Survival Estimates

Learn More
65 or Better
400
All Grades
38
60 or Better
4
65 or Better
R-6.2
All Grades
R-8.7
60 or Better
R-9.8
65 or Better
9 / 41 TIE
All Grades
11 / 41 TIE
60 or Better
8 / 41 TIE
65 or Better
9 / 41 TIE
All Grades
11 / 41 TIE
60 or Better
8 / 41 TIE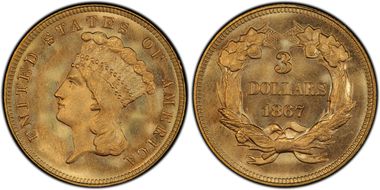 #1 MS68 PCGS grade

Superior 5/1990:5517, $100,000 - David & Sharron Akers Collection - Heritage 1/2014:5389, $141,000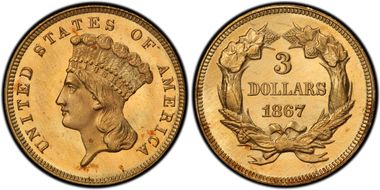 #2 MS67+ PCGS grade

Gaston DiBello Collection - Stack's 5/1970:767 - Harry W. Bass, Jr. Collection - Bowers & Merena 10/1999:682, $46,000
#3 MS66 PCGS grade
#4 MS64 PCGS grade
#4 MS64 PCGS grade