1870-CC 25C VG8
Certification #28553706,
PCGS #5477
Expert Comments
Ron Guth
Though it is not the rarest of the Seated Liberty Quarter Dollars, the 1870-CC ranks right near the top. Anyone interested in collecting coins from the Carson City Mint knows how difficult it is to locate an example of this date. Prices are high, even for low grade coins, and values escalate in the AU range. Only one Mint State example has been positively identified, that being the NGC MS64 Eliasberg example which sold for a record price of $187,000 back in 1997. To illustrate how rapidly values have increased for this date, in 2012 a PCGS AU55 example sold for $184,000 (which begs the question: What is the MS64 worth today?).
Designer
Robert Ball Hughes/Christian Gobrecht
Diameter
24.30 millimeters
Metal
90% Silver, 10% Copper
Region
The United States of America
Price Guide
PCGS Population
Auctions - PCGS Graded
Auctions - NGC Graded
Rarity and Survival Estimates

Learn More
65 or Better
300
All Grades
0
60 or Better
0
65 or Better
R-6.4
All Grades
R-10.1
60 or Better
R-10.1
65 or Better
8 / 48 TIE
All Grades
1 / 48
60 or Better
1 / 48
65 or Better
16 / 114 TIE
All Grades
1 / 114
60 or Better
1 / 114
#1 MS63 estimated grade

William B. Wetmore Collection - S.H. & H. Chapman 6/1906 - J.M. Clapp - John H. Clapp - Clapp estate, 1942 - Louis E. Eliasberg, Sr. Bowers & Merena 4/1997:1495, $187,000

According to Rusty Goe, Carson City coin expert, the attribution of this coin to the Harlan P. Smith Collection is incorrect. This was an error in the Clapp notebook, as no 1870-CC Quarter Dollar appeared in Chapman Brothers' sale of the H.P. Smith collection. The Wetmore sale took place the day after the Smith sale and contained an 1870-CC Quarter Dollar that sold for $10, the exact amount recorded in the Clapp notebook.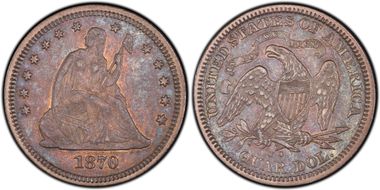 #2 AU55 PCGS grade

The plate coin in "The Comprehensive Encyclopedia of United States Liberty Seated Quarters" by Larry Briggs

Richmond Collection - David Lawrence 3/2005:1471 - Rusty Goe - Battle Born Collection - Stack's/Bowers 8/2012:11091, $184,000 - Eugene H. Gardner Collection - Heritage 5/2015:98354, $188,000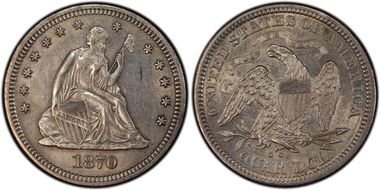 #3 AU53 PCGS grade
#4 AU50 PCGS grade
#5 XF45 PCGS grade