1870-CC 50C VF35
Certification #60158228,
PCGS #6328
Owner's Comments
Ex-Randy Wiley Collection, WB-3. Plate coin in a Register of Liberty Seated Half Dollar Varieties, Volume II, Carson City Branch Mint, page 27 and page 164. Once part of the Louisiana Hoard accumulated by Roy Pohler and acquired by Randy Wiley in 1986.
Expert Comments
Ron Guth
1870 was the first year in which the Carson City Mint went into production of U.S. coins. In it's first year, mintages of every denomination were very low, creating instant rarities across the board. Though the Half Dollar had the largest mintage of the group, it remains a great rarity today. For anyone collecting this series, the 1870-CC Half Dollar is one of the toughest of all the dates. From About Good to Extremely Fine, the 1870-CC Half Dollar is available -- for a price. In AU and better grades, this is an extreme rarity. Only a tiny handful of Mint State 1870-CC Half Dollars exist, and no Gem or better example has been seen.
Designer
Thomas Sully/Christian Gobrecht
Diameter
30.00 millimeters
Metal
90% Silver, 10% Copper
Region
The United States of America
Price Guide
PCGS Population
Auctions - PCGS Graded
Auctions - NGC Graded
Rarity and Survival Estimates

Learn More
65 or Better
200
All Grades
1
60 or Better
0
65 or Better
R-7.0
All Grades
R-10.0
60 or Better
R-10.1
65 or Better
4 / 45 TIE
All Grades
1 / 45
60 or Better
1 / 45
65 or Better
11 / 126 TIE
All Grades
1 / 126 TIE
60 or Better
1 / 126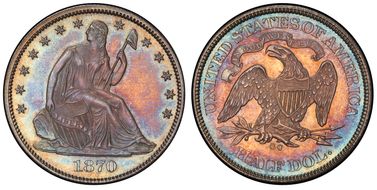 #1 MS64 PCGS grade

Reed Hawn Collection - Stack's 8/1973:248, $13,500 - John Glenn Halsell, Jr. Collection - Stack's 3/1984:725 - James Bennett Pryor Collection - Bowers & Merena 1/1996:204 - Dick Osburn Collection - American Numismatic Rarities 1/2005:576, $126,500 - Stack's/Bowers 8/2011:7101, $172,500 - Rusty Goe - Battle Born Collection - Stack's/Bowers 8/2012:11081, $109,250
#2 MS62 PCGS grade

"Anderson-DuPont" Collection - Stack's 11/1954:2189 - Charles Cass Collection - Stack's 11/1957 - Eugene H. Gardner Collection - Stack's 2/1965:1858 - Donald Groves Collection - Stack's 11/1974:441 - Robison Collection - Stack's 2/1982:1694 - Queller Family Collection - Stack's 10/2002:624, $161,000 - Eugene H. Gardner Collection - Heritage 10/2014:98509, $129,250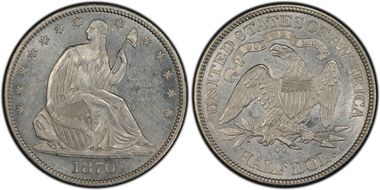 #3 MS61 PCGS grade

Heritage 1/2014:5254, $88,125
#3 MS61 PCGS grade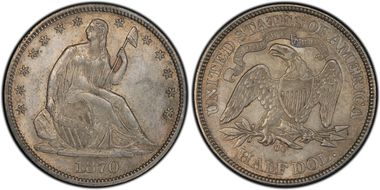 #5 AU58 PCGS grade