1870-S 10C MS65
Certification #05488829,
PCGS #4652
Owner's Comments
Mintage: 50,000
Obverse Dies: 1 Known

The 1870 San Francisco date is very scarce in all grades and becomes rare in EF or better. In Mint State, the release of a small hoard allows some availability, though the date is still considered rare.

Plate Coin: Fortin 101, Well Struck, Bold Luster with Light Golden Toning
Expert Comments
Ron Guth
The 1870-S Dime is a semi-scarce issue, in sharp contrast to just about every other denomination issued in San Francisco in 1870 (for example, the 1870-S Half Dime and Three-Dollar Gold piece are unique and the 1870-S Silver dollar is exceedingly rare). The San Francisco Mint produced 50,000 Dimes, virtually all of which entered circulation. A small quantity was preserved by collectors such that perhaps 20-30 Mint State examples are known today. Most of the known Mint State examples are well-preserved, usually in MS64 to MS65. The best examples are MS66, but only several are known in that grade.
The strike on the 1870-S Dime is often soft in the centers, particularly on the N of ONE and the IM of DIME.
Designer
James Barton Longacre
Diameter
17.90 millimeters
Metal
90% Silver, 10% Copper
Region
The United States of America
Price Guide
PCGS Population
Auctions - PCGS Graded
Auctions - NGC Graded
Rarity and Survival Estimates

Learn More
65 or Better
400
All Grades
35
60 or Better
10
65 or Better
R-6.2
All Grades
R-8.8
60 or Better
R-9.5
65 or Better
23 / 67 TIE
All Grades
18 / 67
60 or Better
23 / 67 TIE
65 or Better
40 / 122 TIE
All Grades
39 / 122
60 or Better
53 / 122 TIE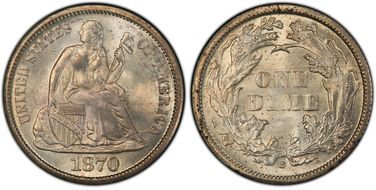 #1 MS66 PCGS grade

Bob R. Simpson Collection - Heritage 9/2010:3677, $25,300 - Eugene H. Gardner Collection, Part I - Heritage 6/2014:30266, $18,800 - D.L. Hansen Collection
#1 MS66 PCGS grade

Goldbergs 9/2003:255, $9,775 - Heritage 7/2004:5778, $10,350 - Kagin's 3/2017:1150, $19,975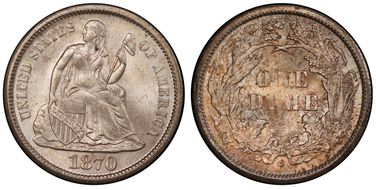 #1 MS66 PCGS grade

Heritage 10/2001:5982, $5,060 - Heritage 11/2016:5196, $18,800
#1 MS66 PCGS grade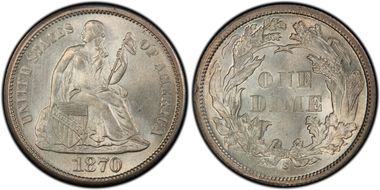 #6 MS65 PCGS grade