1870-S 50C AU58
Certification #35230372,
PCGS #6329
Expert Comments
Ron Guth
In 1870, employees at the San Francisco Mint produced over one million Half Dollars. This was larger than the Half Dollar production at the Philadelphia and Carson City Mints combined. Nonetheless, because of the great distance between the San Francisco Mint and collectors back East, very few 1870-S Half Dollars ended up in collections. This is best illustrated by comparing the 1870-S with the 1871, which has a slightly larger mintage than the 1870-S. However, far more Uncirculated examples of the 1871 have survived compared with the 1870-S. This large discrepancy can be attributed to the presence of far more collectors surrounding the Philadelphia Mint.
Less than two dozen Mint State 1870-S Half Dollars exist. Most grade MS62. Gems are extremely rare and none are known above MS65.
Designer
Thomas Sully/Christian Gobrecht
Diameter
30.00 millimeters
Metal
90% Silver, 10% Copper
Region
The United States of America
Price Guide
PCGS Population
Auctions - PCGS Graded
Auctions - NGC Graded
Rarity and Survival Estimates

Learn More
65 or Better
400
All Grades
25
60 or Better
3
65 or Better
R-6.2
All Grades
R-9.0
60 or Better
R-9.8
65 or Better
9 / 45
All Grades
8 / 45
60 or Better
3 / 45 TIE
65 or Better
21 / 126 TIE
All Grades
29 / 126 TIE
60 or Better
18 / 126 TIE
#1 MS65 PCGS grade

Usibelli Collection - Heritage 1/2014:5255, $67,562.50
#1 MS65 PCGS grade

Louis E. Eliasberg, Sr. - Bowers & Merena 4/1997:2013 - Richard Genaitis Collection - Heritage 10/2001:6991 - Eugene H. Gardner Collection - Heritage 10/2014:98510, $55,812.50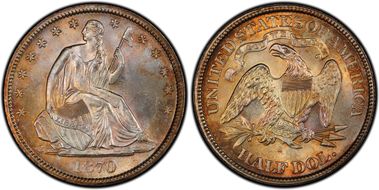 #3 MS64 PCGS grade

Dick Osburn Collection - Stack's/Bowers 8/2011:7102, $34,500
#3 MS64 PCGS grade
#3 MS64 estimated grade