1871 $3 MS63
Certification #07776782,
PCGS #7993
Owner's Comments
Proolike, well struck, old gold coloring. Really clean looking fields.
Expert Comments
David Akers (1975/88)
With a mintage of only 1,330 poeces, the 1871 has one of the lowest mintages in the entire series. It is also one of the rarest in terms of pieces available. However, most of the known specimens are relatively high grade. I have seen a small number of choice uncirculated examples of this date, with possibly the finest being the gem that appeared in the Marks Sale in November, 1972. All of the choice specimens that I have seen of this date were fully proof-like and could easily be mistaken by some for proofs. However, the position of the date is markedly different on proofs than it is on uncs. The date on the proofs is higher in the field and is nearly centered between DOLLARS and the bow, while on the business strikes, it is very low with the 7 nearly touching the ribbon.
Designer
James Barton Longacre
Diameter
20.50 millimeters
Metal
90% Gold, 10% Copper
Region
The United States of America
Price Guide
PCGS Population
Auctions - PCGS Graded
Auctions - NGC Graded
Rarity and Survival Estimates

Learn More
65 or Better
650
All Grades
100
60 or Better
3
65 or Better
R-5.7
All Grades
R-8.0
60 or Better
R-9.8
65 or Better
19 / 41 TIE
All Grades
21 / 41 TIE
60 or Better
8 / 41 TIE
65 or Better
19 / 41 TIE
All Grades
21 / 41 TIE
60 or Better
8 / 41 TIE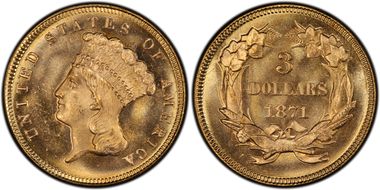 #1 MS67 PCGS grade

Colonial Coins, sold privately in 8/1972 - Harry W. Bass, Jr. Collection, Part II - Bowers & Merena 10/1999:688, $41,400 -Great Lakes Collection - Hanks & Associates, sold privately as an entire collection in 10/2005 - D. Brent Pogue Collection - Stack's/Bowers & Sotheby's 2/2016:3112, $70,500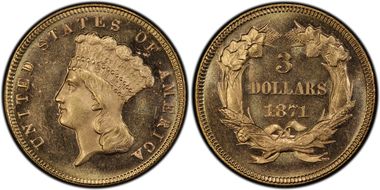 #2 MS65 PCGS grade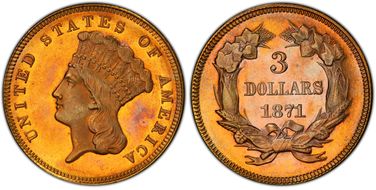 #3 MS64+ PCGS grade
#4 MS64 PCGS grade
#4 MS64 PCGS grade