1871-CC $10 XF40
Certification #60091866,
PCGS #8661
Owner's Comments
Dave Crouthers Grand Gold Coin
Expert Comments
David Akers (1975/88)
From the standpoint of condition rarity, the 1871-CC ranks near the top of the Eagle series and is tied with several others in seventh place in rarity according to average grade. Even in EF, this date is decidedly rare. In overall rarity, the 1871-CC compares to the 1874-CC, 1877-CC and 1882-CC although it is even more rare than any of those three in high grade.
Designer
Christian Gobrecht
Diameter
26.80 millimeters
Metal
90% Gold, 10% Copper
Region
The United States of America
Price Guide
PCGS Population
Auctions - PCGS Graded
Auctions - NGC Graded
Rarity and Survival Estimates

Learn More
65 or Better
113
All Grades
2
60 or Better
0
65 or Better
R-7.8
All Grades
R-9.9
60 or Better
R-10.1
65 or Better
27 / 117 TIE
All Grades
12 / 117 TIE
60 or Better
1 / 117
65 or Better
56 / 183 TIE
All Grades
20 / 183 TIE
60 or Better
1 / 183
#1 MS62+ PCGS grade

Discovered in Europe prior to 1995 - Heritage 3/1995:5959, $44,000 - Bowers & Merena Galleries - Henry S. Lang - Bowers & Merena 7/2002:626, $66,125 - Battle Born Collection - Stack's/Bowers 8/2012:11021, $126,500
#2 AU58 PCGS grade

Ellen D Collection (PCGS Set Registry) - Simpson Collection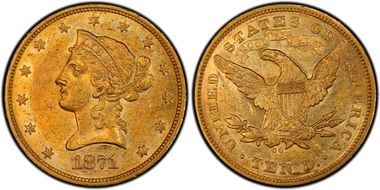 #2 AU58 PCGS grade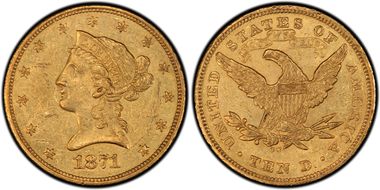 #4 AU55 PCGS grade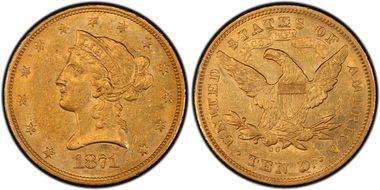 #4 AU55 PCGS grade