1871-CC $5 XF45
Certification #25325501,
PCGS #8323
Owner's Comments
Allen Rowe Northern Nevada Coin
Expert Comments
David Akers (1975/88)
The 1871-CC is rare in all grades but it is more often available than any of the other rare dates from this Mint between 1970 and 1878 except the 1874-CC. Almost all known specimens are well worn, Fine or VF being typical, and the 1871-CC ranked 11th in the series in rarity according to average grade. Strictly graded EF or AU specimens are very rare and I have seen only two examples that I would consider to be uncirculated.
---
Ron Guth
A fresh analysis of the 1871-CC Half Eagle shows a coin with one of the highest certified populations in the 1867-1877 period. Among the CC issues from the 1870s, the 1871-CC and the 1874-CC are the least rare, with virtually identical populations. The 1871-CC Half Eagle is seen most frequently in XF45. AU examples are quite scarce and Mint State examples are exceedingly rare. At this level, not much has changed since Akers recorded his observations for this date in the 1970s. Overlall, this is one of the most desirable and popular dates from this era.
Designer
Christian Gobrecht
Diameter
21.65 millimeters
Metal
90% Gold, 10% Copper
Region
The United States of America
Price Guide
PCGS Population
Auctions - PCGS Graded
Auctions - NGC Graded
Rarity and Survival Estimates

Learn More
65 or Better
150
All Grades
2
60 or Better
0
65 or Better
R-7.5
All Grades
R-9.9
60 or Better
R-10.1
65 or Better
31 / 106 TIE
All Grades
7 / 106 TIE
60 or Better
1 / 106
65 or Better
79 / 218 TIE
All Grades
13 / 218 TIE
60 or Better
1 / 218
#1 MS62 PCGS grade
#1 MS62 estimated grade

Mid-American Rare Coin Galleries (Jeff Garrett) - Gulfcoast Rare Coins - Heritage 7/1997:7686 - Heritage Rare Coin Galleries - Kingswood 6/1998:676 - Jason Carter and Chris Napolitano - Spectrum Numismatics and Kevin Lipton, 7/1999 - Doug Winter - Nevada Collection - Battle Born Collection - Stack's/Bowers 8/2012:11002, $63,250
#3 MS61 PCGS grade

Heritage 4/2013:4528, $48,468.75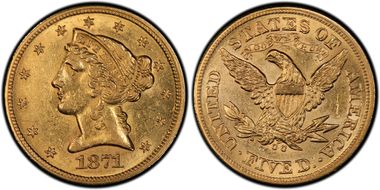 #4 AU58 PCGS grade
#4 AU58 PCGS grade