1871-CC 10C XF45
Certification #90092392,
PCGS #4654
Owner's Comments
Mintage: 20,100
Obverse Dies: 1 Known

All Carson City dimes from 1871 through 1874 are found with wider reeding than coinage from the Philadelphia or San Francisco mints. Additionally, only one reverse die was used to strike the Carson City mintage for those four years. Both of these characteristics can be used as a diagnostic to verify genuine Carson City dimes from 1871 through 1874. Carson City dimes are typically found with surface porosity as many have been recovered from the ground. Larry Briggs also notes in his Comprehensive Encyclopedia of United States Liberty Seated Quarters that "The Carson City mint was known to shortcut their annealing process and instead of using 90% silver, 10% copper mixture, used pure Comstock silver."
Without copper in the alloy to harden the silver, Carson City dimes would be highly susceptible to environmental factors.

Plate Coin: Fortin 101, Original Gunmetal Gray Toning with Problem Free Surfaces For An 1871 Carson City Dime, One of the Highlights of the Fortin PCGS Registry Set
Expert Comments
Ron Guth
The 1871-CC Dime is one of the stars of the Carson City coins, primarily because of its inherent rarity and the paucity of Mint State examples. After some confusion about crossovers, resubmissions, etc. a clear picture has emerged of the members of the Mint State "club" and it shows that there are, at best, five Uncirculated 1871-CC Dimes. The best is the NGC MS65 from the Eugene Gardner Collection that sold recently for a record price of $270,250. Check out the Condition Census above for the most accurate listing ever presented for this date.
Designer
James Barton Longacre
Diameter
17.90 millimeters
Metal
90% Silver, 10% Copper
Region
The United States of America
Price Guide
PCGS Population
Auctions - PCGS Graded
Auctions - NGC Graded
Rarity and Survival Estimates

Learn More
65 or Better
110
All Grades
4
60 or Better
1
65 or Better
R-7.9
All Grades
R-9.8
60 or Better
R-10.0
65 or Better
2 / 67
All Grades
2 / 67 TIE
60 or Better
1 / 67 TIE
65 or Better
3 / 122
All Grades
3 / 122 TIE
60 or Better
1 / 122 TIE
#1 MS64 estimated grade

James A. Stack, Sr. Collection - Stack's 1/1990:146 - Superior 2/2003:1358, not sold - Bowers & Merena 3/2005:443, $230,000 - Eugene Gardner Collection - Heritage 10/2014:98271, $270,250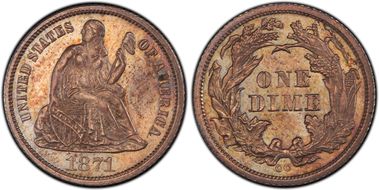 #2 MS63 PCGS grade

Harold M. Budd, Sr. - Numismatic Gallery (Abe Kosoff and Abner Kreisberg) - Ben Stack (Imperial Coin Company) - Ambassador and Mrs. R. Henry Norweb, acquired July 29, 1954 - Bowers & Merena 10/1987:529 - Waldo E. "Pat" Bolen, Jr. - Numisma '95 (David W. Akers, RARCOA, Stack's) 11/1995:2134 - American Numismatic Rarities 1/2005:373 - Rusty Goe, 1/2005 - Battle Born Collection - Stack's/Bowers 8/2012:11102, $97,750
#2 MS63 estimated grade

Stack's "Milton Holmes" 10/1960:2782, $825 - Bowers & Ruddy 11/1976:57
#4 MS62 PCGS grade

Bowers & Merena 3/2005:444, $51,750 - Heritage 7/2009:1068, $46,000 - Heritage 12/2009:394, not sold - Heritage 8/2010:3084, not sold - Goldbergs 6/2014:340, $82,250
#5 AU58 estimated grade

Heritage 1/2006:129, not sold - Heritage 3/2006:450, $46,000 - American Numismatic Rarities 8/2006:323, $49,450 - Heritage 10/2006:13415, not sold - Heritage 1/2007:872, $48,875