1871-S 25C MS62
Certification #22104205,
PCGS #5480
Expert Comments
Ron Guth
The 1871-S Quarter Dollar is much scarcer than its already low mintage indicates, making it one of the most important dates in the 1870s. This was a common theme for S-mint Quarter Dollars during this period. It just seemed as though collectors paid little attention to the coins from out West. Nowadays, the situation has reversed completely and collectors clamor for low-pop, high-grade coins. Unfortunately, the supply of Western Quarters is vastly smaller than current demand, resulting in high values for coins at the top of the condition ladder.
The PCGS Population Reports shows an atypical pattern for Mint State 1871-S Quarters. In this case, there is a void at the MS63 level, surrounded by small clusters at the MS62 and MS64 grades. A small number of Gems exists, with just a pair of MS66s at the top of the Condition Census. In an ironic twist, and an indication of the respect for this date, the price record belongs to a cleaned example that sold for $19,550 in 2011.
Designer
Robert Ball Hughes/Christian Gobrecht
Diameter
24.30 millimeters
Metal
90% Silver, 10% Copper
Region
The United States of America
Price Guide
PCGS Population
Auctions - PCGS Graded
Auctions - NGC Graded
Rarity and Survival Estimates

Learn More
65 or Better
350
All Grades
30
60 or Better
7
65 or Better
R-6.3
All Grades
R-8.9
60 or Better
R-9.6
65 or Better
12 / 48 TIE
All Grades
13 / 48 TIE
60 or Better
14 / 48 TIE
65 or Better
23 / 114 TIE
All Grades
37 / 114 TIE
60 or Better
38 / 114 TIE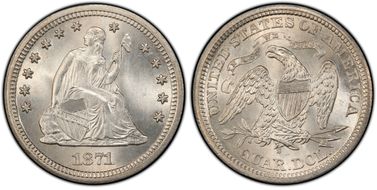 #1 MS67PCGS grade

Stack's/Bowers 8/2012:11350, $35,938 - Stack's/Bowers 5/2015:46, $32,900 - Heritage 1/2017:5609, $30,550
#2 MS66 PCGS grade

Stellar Collection - Summit Rare Coins, sold privately in 8/2004 - Eugene H. Gardner Collection - Heritage 6/2014:30391, $30,550
#2 MS66 PCGS grade
#4 MS65 PCGS grade
#4 MS65 PCGS grade