1871-S 10C MS63
Certification #21478455,
PCGS #4655
Owner's Comments
Mintage: 320,000
Obverse Dies: 2 Known

Two sets of obverse and reverse dies for 1871 San Francisco coinage producing three separate die pairing varieties. A scarce date that is more difficult to locate than its mintage would suggest. Rare and underrated in Mint State.

Plate Coin: Fortin 101, Repunched 18, Well Struck For 1871-S, Silver Centers with Radial Brown Toning
Expert Comments
Ron Guth
The 1871-S Dime has a small mintage of 320,000 coins, but this is in line with many of the preceding years, Nonetheless, this date is more valuable than P-Mint dates with even lower mintages (1869 comes to mind), mostly because of the attrition of Mint State examples as they travelled across the country from the San Francisco Mint to the collectors back east. Perhaps two dozen Mint State examples are known, mostly in MS63 and MS64. Gems are very, very rare, and none are known above MS66.
Dime researcher, Gerry Fortin, has identified three different die pairs that were used to strike all of the 1871-S Dimes. All three varieties have a small, weak mintmark.
Designer
James Barton Longacre
Diameter
17.90 millimeters
Metal
90% Silver, 10% Copper
Region
The United States of America
Price Guide
PCGS Population
Auctions - PCGS Graded
Auctions - NGC Graded
Rarity and Survival Estimates

Learn More
65 or Better
250
All Grades
25
60 or Better
3
65 or Better
R-6.6
All Grades
R-9.0
60 or Better
R-9.8
65 or Better
4 / 67 TIE
All Grades
13 / 67 TIE
60 or Better
12 / 67 TIE
65 or Better
11 / 122 TIE
All Grades
27 / 122 TIE
60 or Better
28 / 122 TIE
#1 MS66 PCGS grade

W. F. Greany, sold privately in 1/1904 - J.M. Clapp Collection - Louis E. Eliasberg, Sr. Collection - Bowers & Merena 5/1996:1193, $6,820 - Heritage 8/2017:3929, $30,550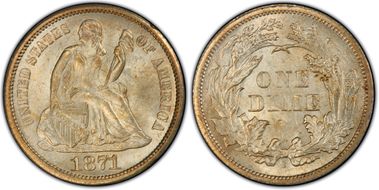 #2 MS65 PCGS grade

Bob Simpson Collection of Seated Dimes - Heritage 9/2010:3680, $14,950
#2 MS65 PCGS grade

Jason Carter, sold privately in 5/2009 - Eugene H. Gardner Collection - Heritage 10/2014:98272, $11,750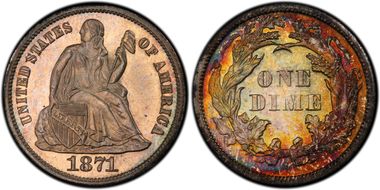 #4 MS64 PCGS grade
#4 MS64 PCGS grade