1871 10C MS65
Certification #02768987,
PCGS #4653
Owner's Comments
Mintage: 907,710
Obverse Dies: 13 Known

To date, thirteen obverse dies have been documented for 1871 Philadelphia coinage. A relatively common date in lower grades that becomes scarce in EF or better. This date is very scarce in Mint State and has proven to be elusive during the past few years.

Plate Coin: Fortin 109, Well Struck, White and Lustrous
Expert Comments
Ron Guth
In 1871, Dime production at the Philadelphia Mint ramped up to just over 900,000 coins, the largest mintage since 1861. The 1871 Dime is not the cheapest example of the type, but it is one of the most affordable. For some inexplicable reason, the 1871 Dime is more scarce in Mint State than even the 1870, which has almost half the mintage. The most frequently-seen grade for this date is MS64, though that grade is flanked on either side by nearly equal quantities of MS63 and MS65 examples. MS66 appears to be the highest possible grade, and there are several examples available at that level.
Thus far, researcher Gerry Fortin has identified fourteen different die pairs for the 1871 Dime. Because of the large mintage, it is possible that new varieties are "out there" waiting to be discovered.
Designer
James Barton Longacre
Diameter
17.90 millimeters
Metal
90% Silver, 10% Copper
Region
The United States of America
Price Guide
PCGS Population
Auctions - PCGS Graded
Auctions - NGC Graded
Rarity and Survival Estimates

Learn More
65 or Better
400
All Grades
60
60 or Better
10
65 or Better
R-6.2
All Grades
R-8.4
60 or Better
R-9.5
65 or Better
23 / 67 TIE
All Grades
27 / 67 TIE
60 or Better
23 / 67 TIE
65 or Better
40 / 122 TIE
All Grades
54 / 122 TIE
60 or Better
53 / 122 TIE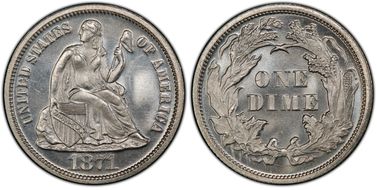 #1 MS66+ PCGS grade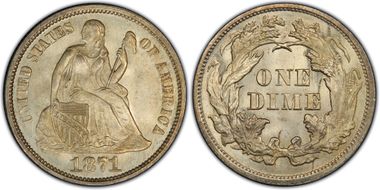 #2 MS66 PCGS grade

Heritage 3/2009:831, $6,900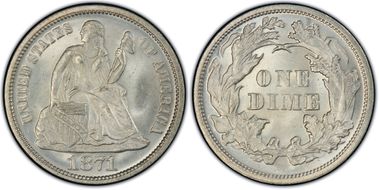 #2 MS66 PCGS grade

Bob Simpson Collection of Seated Dimes - Heritage 9/2010:3678, $5,750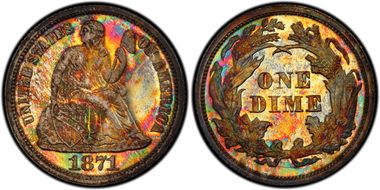 #2 MS66 PCGS grade
#2 MS66 PCGS grade

Heritage 8/2006:877, $4,025 - Eugene H. Gardner Collection - Heritage 10/2014:98270, $5,581.25 - Heritage 4/2015:3851, $4,700 - Heritage 12/2015:3102, $3,995