1872 $3 MS63
Certification #90109761,
PCGS #7994
Owner's Comments
Purchased from Sonny Henry auction, difficult to locate one any better than MS62
Expert Comments
David Akers (1975/88)
This date, although certainly scarce, ranks only 27th in rarity in our 238 catalogue auction survey among the 44 coins in this series according to the total number of appearances. As is the case with the 1871, most known specimens are relatively high grade and so the 1872 also ranks only 27th in rarity according to average grade. A number of extremely choice and fully proof-like first strike uncs exist, and they rank with the uncs of 1877 and 1879 as the most deceptive in the series. As was always the case, however, different dies were used for the proofs than were used for business strikes, and on the 1872, the position of the date is markedly different on proofs than it is on business strikes. Business strikes have the date higher in the field, almost centered between the word DOLLARS and the bow on the wreath. On the other hand, the date on the proofs is lower in the field and also a bit more to the right.
Designer
James Barton Longacre
Diameter
20.50 millimeters
Metal
90% Gold, 10% Copper
Region
The United States of America
Price Guide
PCGS Population
Auctions - PCGS Graded
Auctions - NGC Graded
Rarity and Survival Estimates

Learn More
65 or Better
650
All Grades
60
60 or Better
1
65 or Better
R-5.7
All Grades
R-8.4
60 or Better
R-10.0
65 or Better
19 / 41 TIE
All Grades
14 / 41 TIE
60 or Better
1 / 41 TIE
65 or Better
19 / 41 TIE
All Grades
14 / 41 TIE
60 or Better
1 / 41 TIE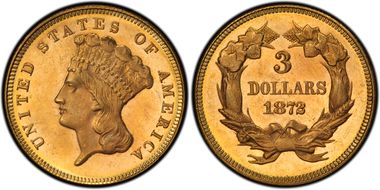 #1 MS65+ PCGS grade

Great Lakes Collection - Hanks & Associates, sold privately as an entire collection in 10/2005 - D. Brent Pogue Collection - Stack's/Bowers & Sotheby's 2/2016:3113, $37,600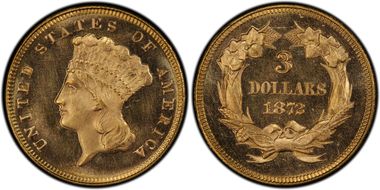 #2 MS64+ PCGS grade

Henry Miller Collection - Heritage 1/2011:5060, $37,375 - Bob R. Simpson Collection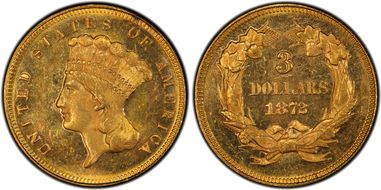 #3 MS64 PCGS grade

Heritage 2/2011:4420, $32,200 - Legend Rare Coin Auctions 2/2016:411, not sold - Legend Rare Coin Auctions 12/2016:445, $29,375 - Legend Rare Coin Auctions 5/2017:465, $21,000 - Heritage 8/2017:4112, $30,550 - Chinook Collection - Heritage 4/2019:3843, $28,800
#3 MS64 PCGS grade
#3 MS64 PCGS grade