1872-CC $1 VG10
Certification #04334771,
PCGS #6969
Expert Comments
Q. David Bowers
The following narrative, with minor editing, is from my "Silver Dollars & Trade Dollars of the United States: A Complete Encyclopedia" (Wolfeboro, NH: Bowers and Merena Galleries, Inc., 1993).
Coinage Context
Distribution: I believe that most (1872-CC dollars circulated after 1873, when their intrinsic value dropped below their face value. Some authorities (e.g., Walter H. Breen) speculate that many were melted at the Carson City Mint after April 1873. However, R.W. Julian points out the following.' "Probably, this is not correct as dollars were struck only for private depositors. If this statement is correct, it would mean that depositors never called for their coins." Or else some were paid off in ingots.
Numismatic Information
Circulated grades: Like other Carson City dollars, the 1872-CC was minted in small numbers. Its rarity was recognized by the 1890s, and many specimens were taken from circulation. Today, the number surviving is in the range of perhaps 150 to 200, including lower grades in the Good, VG, and Fine ranges. Opinions on the number of survivors vary, with Chris Napolitano, for one, considering the 1872-CC to be more available in worn grades than the literature suggests." Because of the popularity of the CC mintmark, examples are in demand whenever offered.
Availability of Mint State grades: In Mint State the 1872-CC is very rare and seems to be nearly (but not quite) on a par with the 1871-CC, although in lower grades the 1871-CC is measurably rarer. Figuring the number of Mint State examples is guesswork, as auction and other data prior to the certification era (which began with PCGS in 1986) often have little meaning. What was called "Uncirculated" many years ago might be graded EF or AU by today's interpretations. A specimen reported as MS-64 by Jon Harris is from the Austin Collection, and may be the finest known.
Estimates of rarity by others: Estimating the rarity of Carson City dollars of the Liberty Seated type has been the focus of attention of several contributors to The Gobrecht Journal.
In March 1977, Ron Severa stated that in EF grade it was the 6th rarest coin in the series. Writing in July 1982, Donald Vette1 called the issue "tough, but very overrated." John Kroon in July 1984 estimated that 125 to 150 exist in various grades. In March 1983, Weimar W. White gave the opinion that zero to two exist in MS-65 grade, fewer than 15 are at the MS-60 level, and that fewer than 60 are known in all grades combined (an estimate revised in 19921 to a 100 to 200 range for all grades combined).
In a letter dated May 15, 1992, Dale R. Phelan noted this: "Your population estimate of 210 total is close to mine of 250 to 300 coins. This coin is in great demand, and many were absorbed into collections. During the 1965-1981 period I saw dealers' stocks and ads for up to six pieces of 1872-CC at time. I feel that some are hoarded now."
Varieties
Circulation strikes:
1. Normal Date: Breen-5493. Obverse: With top of 2 repunched. Reverse: Widely spaced CC mintmark; Reverse C of 1870.
Note: Two obverse dies were sent to Carson City, but impressions from just one are known today.
Dies prepared: Obverse: 2; Reverse: 1 (left over from 1870). (This die was used earlier to coin 1870-CC dollars and is Reverse C of that year. Two obverse dies were shipped from Philadelphia, but no reverses. Reverse C probably arrived at the Carson City Mint in October 1869.)
Circulation strike mintage: 3,150; Delivery figures by month: March: 2,150; July: 1,000.
Estimated quantity melted: Unknown; some believed to have been melted at the Carson City Mint in 1873.
Characteristics of striking: Usually seen well struck on the reverse; average strike on the obverse. As is the case with other CC Mint Liberty Seated dollars, the word LIBERTY on the shield is not as prominent as on Philadelphia coins and tended to wear away especially quickly once the coins saw circulation.
Known hoards of Mint State coins: None
Commentary
The 1872-CC is elusive in all grades.
---
Jaime Hernandez
The 1872-CC has a very small mintage of 3,150 pieces. Most of them have been lost to attrition from circulating and melting over the years. A very scarce issue in the Seated Dollar series.
Designer
Christian Gobrecht
Diameter
38.10 millimeters
Metal
90% Silver, 10% Copper
Region
The United States of America
Price Guide
PCGS Population
Auctions - PCGS Graded
Auctions - NGC Graded
Rarity and Survival Estimates

Learn More
65 or Better
400
All Grades
20
60 or Better
2
65 or Better
R-6.2
All Grades
R-9.1
60 or Better
R-9.9
65 or Better
4 / 15
All Grades
5 / 15
60 or Better
2 / 15
65 or Better
6 / 45
All Grades
5 / 45 TIE
60 or Better
8 / 45 TIE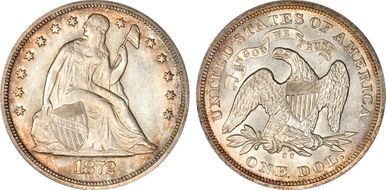 #1 MS65 PCGS grade

Share (Sunshine) Collection - Legend Collection - Bruce Morelan Collection - D.L. Hansen Collection
#2 MS64 estimated grade
#3 MS63 PCGS grade

American Numismatic Rarities 1/2005:693, $94,875
#3 MS63 PCGS grade
#3 MS63 estimated grade

James A. Stack, Sr. Collection - Stack's 3/1995:216 - unknown intermediaries - Douglas Winter - Battle Born Collection - Stack's/Bowers 8/2012:11079, $80,500