1872-CC $10 XF45
Certification #60189590,
PCGS #8664
Owner's Comments
Allen Rowe Northern Nevada Coin
Expert Comments
David Akers (1975/88)
The 1872-CC is not often available in any condition. As a date, the 1872-CC is more rare than the 1871-CC although the two are equal from the standpoint of condition rarity. The 1872-CC is similar in overall rarity and condition rarity to the 1873-CC, 1875-CC and 1876-CC and is only a little less rare than the 1878-CC. Most 1872-CC Eagles are weakly struck on the hair curls around Liberty's face.
Designer
Christian Gobrecht
Diameter
26.80 millimeters
Metal
90% Gold, 10% Copper
Region
The United States of America
Price Guide
PCGS Population
Auctions - PCGS Graded
Auctions - NGC Graded
Rarity and Survival Estimates

Learn More
65 or Better
83
All Grades
0
60 or Better
0
65 or Better
R-8.1
All Grades
R-10.1
60 or Better
R-10.1
65 or Better
23 / 117 TIE
All Grades
1 / 117
60 or Better
1 / 117
65 or Better
43 / 183 TIE
All Grades
1 / 183
60 or Better
1 / 183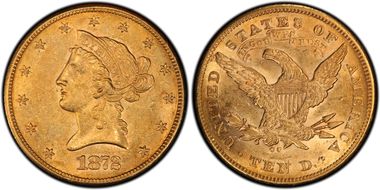 #1 AU58 PCGS grade

John J. Ford, Jr., April 7, 1975 - Harry W. Bass, Jr. - Bowers & Merena 11/2000:702 - Doug Winter - Nevada Collection - Battle Born Collection - Stack's/Bowers 8/2012:11022, $63,250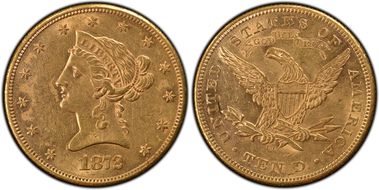 #1 AU58 PCGS grade
#1 AU58 PCGS grade

Warren Miller Collection - Heritage 10/1995:6362 - Harry S. Lang Collection - Bowers & Merena 7/2002:627 - Tennessee Collection - American Numismatic Rarities 10/2004:828, $57,500
#1 AU58 PCGS grade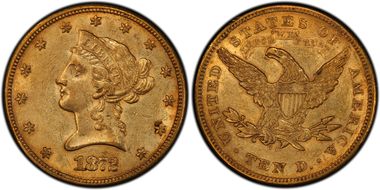 #5 AU55 PCGS grade