1872-CC $5 AU55
Certification #25369137,
PCGS #8326
Owner's Comments
Allen Rowe-Northern Nevada Coin
Expert Comments
David Akers (1975/88)
The 1872-CC is of comparable overall rarity to the 1871-CC although, in my opinion, it is a little more rare than the 1971-CC in full EF or better. I have not heard of one even close to uncirculated. Most known specimens are well worn with Fine and VF being typical.
Designer
Christian Gobrecht
Diameter
21.65 millimeters
Metal
90% Gold, 10% Copper
Region
The United States of America
Price Guide
PCGS Population
Auctions - PCGS Graded
Auctions - NGC Graded
Rarity and Survival Estimates

Learn More
65 or Better
92
All Grades
0
60 or Better
0
65 or Better
R-8.0
All Grades
R-10.1
60 or Better
R-10.1
65 or Better
18 / 106 TIE
All Grades
1 / 106
60 or Better
1 / 106
65 or Better
51 / 218 TIE
All Grades
1 / 218
60 or Better
1 / 218
#1 AU58 PCGS grade

Stack's 5/1989:394 - Doug Winter and Lee Minshull, 9/1998 - Nevada Collection - Battle Born Collection - Stack's/Bowers 8/2012:11003, $28,750. The plate coin in "Gold Coins of the Carson City Mint" by Douglas Winter and James L. Halperin
#1 AU58 PCGS grade
#1 AU58 PCGS grade
#4 AU55 PCGS grade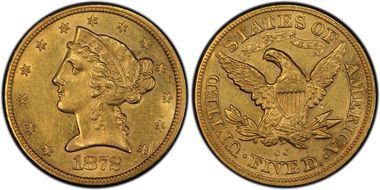 #4 AU55 PCGS grade