1872-CC 10C XF45
Certification #21330072,
PCGS #4657
Owner's Comments
Mintage: 35,480
Obverse Dies: 1 Known

In the lower circulated grades, the 1872 Carson City dime is more available than its 1871, 1873 With Arrows and 1874 counterparts. However in grades of EF or better, the 1872 Carson City dime becomes extremely rare. This date is excessively rare in Mint State.

Plate Coin: Fortin 101, Conditionally Rare, Moderate Layer Of Original Gray Toning on Both Obverse and Reverse


Expert Comments
Ron Guth
From its opening in 1870 to 1875, the Carson City Mint produced very few Dimes. At 35,480 coins, the 1872-CC had the largest mintage of the period, but that is such a tiny number compared to the more than 4.6 million 1875-CC Dimes made just three years later. Because of the distance between the Carson City Mint and the collectors back East, very few 1872-CC Dimes were saved. As a result, only a single Mint State example is known and the PCGS CoinFacts Condition Census drops all the way down to EF45.
The afore-mentioned Mint State example is the PCGS MS63 from the Battle Born and Eugene Gardner collections. Obviously the finest known representative of the date, it is on par with the unique 1873-CC No Arrows Dime. Every other CC-Mint Dime is known by at least two or more Mint State examples.
Designer
James Barton Longacre
Diameter
17.90 millimeters
Metal
90% Silver, 10% Copper
Region
The United States of America
Price Guide
PCGS Population
Auctions - PCGS Graded
Auctions - NGC Graded
Rarity and Survival Estimates

Learn More
65 or Better
200
All Grades
3
60 or Better
0
65 or Better
R-7.0
All Grades
R-9.8
60 or Better
R-10.1
65 or Better
3 / 67
All Grades
2 / 67 TIE
60 or Better
1 / 67
65 or Better
5 / 122 TIE
All Grades
3 / 122 TIE
60 or Better
1 / 122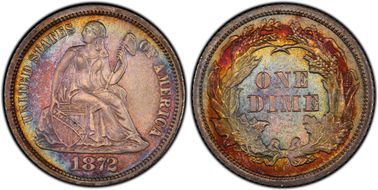 #1 MS63 PCGS grade

James A. Stack, Sr. Collection - Stack's - Waldo E. "Pat" Bolen, Jr. Collection - Stack's/RARCOA/Akers 11/1995:2137, $29,700 - Rusty Goe, sold privately in 1/2005 - American Numismatic Rarities 1/2005:375, $71,300 - "Battle Born" Collection - Stack's/Bowers 8/2012:11103, $184,000 - Eugene H. Gardner Collection, Part III - Heritage 5/2015:98245, $182,125
#2 AU58 PCGS grade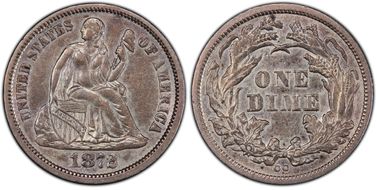 #3 AU53 PCGS grade

Lemus Collection - Stack's 10/2005:657, $40,250 - D.L. Hansen Collection
#4 AU50 estimated grade

Heritage 8/2011:7080, $16,100
#4 AU50 estimated grade