1873-CC $5 AU55
Certification #25514967,
PCGS #8331
Owner's Comments
Allen Rowe Northern Nevada Coin
Expert Comments
David Akers (1975/88)
The 1873-CC has the second lowest mintage of any Carson City Half Eagle. It is a very rare date in any condition and extremely rare as high as EF. I have seen one piece that was very close to uncirculated but none that have actually reached that level. As a date, the 1873-CC is more rare than the 1871-CC, 1872-CC, 1874-CC, 1876-CC and 1877-CC and is comparable to the 1875-CC. It is not quite as rare as either the 1870-CC or the 1878-CC. When available, the 1873-CC is almost always well worn, i.e. VF or less. All 1873-CC Half Eagles have a Closed 3 in the date.
Designer
Christian Gobrecht
Diameter
21.65 millimeters
Metal
90% Gold, 10% Copper
Region
The United States of America
Price Guide
PCGS Population
Auctions - PCGS Graded
Auctions - NGC Graded
Rarity and Survival Estimates

Learn More
65 or Better
70
All Grades
2
60 or Better
0
65 or Better
R-8.3
All Grades
R-9.9
60 or Better
R-10.1
65 or Better
7 / 106 TIE
All Grades
7 / 106 TIE
60 or Better
1 / 106
65 or Better
29 / 218 TIE
All Grades
13 / 218 TIE
60 or Better
1 / 218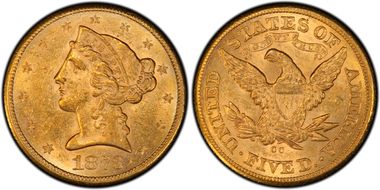 #1 MS62 PCGS grade

Stack's 8/1976:2998 - Harry W. Bass, Jr. - Bowers & Merena 10/1999:1188 - Jay Parrino's The Mint - Goldbergs 10/2000:915 - Legend Numismatics/Summit Rare Coins - Midwestern Collection via Doug Winter - Heritage 1/2011:5118, $161,000 - Battle Born Collection via Rusty Goe - Stack's/Bowers 8/2012:11004, $103,500
#2 MS61 PCGS grade
#3 AU58 estimated grade
#4 AU55 PCGS grade
#4 AU55 PCGS grade