1873 10C Open 3 MS62
Certification #02578603,
PCGS #4660
Owner's Comments
Mintage: 1,508,000 (Closed 3) and 60,000 (Open 3)
Obverse Dies: 8 Known (Closed 3) and 3 Known (Open 3)

1873 Philadelphia dimes without arrows are found with an Open 3 and Closed 3 digit. For years the Open 3 variety has been afforded a premium over the Closed 3 variety due to the low reported Open 3 mintage. In circulated grades, I would question if the premium is warranted and secondly, question if the reported Open 3 mintage of 60,000 was properly recorded or estimated. In Mint State, Open 3 dimes are much rarer than their Closed 3 counterparts.

Plate Coin: Open 3, Fortin 101, Well Struck, White Coin, Cracked Reverse
Expert Comments
Ron Guth
In mid-1873, the Mint raised(!) the weight of the Dimes and placed arrowheads on either side of the date to identify the new coins. 1873 was a bit of a roller coaster year, with a bunch of different varieties -- some common, some rare, and one unique (the 1873-CC No Arrows Dime). The 1873 No Arrows, Open 3 was one of the more rare varieties of the year. The mintage was only 60,000 coins, thus the 1873 No Arrows, Open 3 Dime is difficult to locate in most grades. Here's the kicker -- the best example known of this date is a single PCGS MS65, one that sold for a record price of $16,675 in 2009. The second best examples, a tiny number of MS64's have appeared on the market for as liitle as $1,300. There are very few cases where any of the top five examples of a particular coin can be purchased at such an affordable price.
Liberty Seated Dime researcher, Gerry Fortin, has identified six different die varieties for this year. All are scarce at a minimum and some are quite rare.
Designer
James Barton Longacre
Diameter
17.90 millimeters
Metal
90% Silver, 10% Copper
Region
The United States of America
Price Guide
PCGS Population
Auctions - PCGS Graded
Auctions - NGC Graded
Rarity and Survival Estimates

Learn More
65 or Better
300
All Grades
20
60 or Better
1
65 or Better
R-6.4
All Grades
R-9.1
60 or Better
R-10.0
65 or Better
15 / 67 TIE
All Grades
9 / 67 TIE
60 or Better
1 / 67 TIE
65 or Better
24 / 122 TIE
All Grades
23 / 122 TIE
60 or Better
1 / 122 TIE
#1 MS65 PCGS grade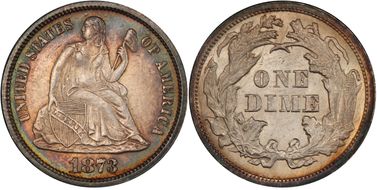 #2 MS64 PCGS grade

Heritage 2/2016:3156, $2,585 - Heritage 4/2016:3236, $1,292.50
#2 MS64 PCGS grade

Bill Nagle, sold privately in 1/2011 - Eugene H. Gardner Collection, Part I - Heritage 6/2014:30268, $8,225
#2 MS64 PCGS grade

Waldo E. "Pat" Bolen, Jr. Collection - Stack's/RARCOA/Akers "Numisma '95" 11/1995:2139, $1,760
#5 MS63 PCGS grade