1873-S 10C Arrows MS64
Certification #07447774,
PCGS #4667
Owner's Comments
Mintage: 455,000
Obverse Dies: 2 Known

Two obverse and reverse die pairs were employed for 1873 With Arrows San Francisco coinage. The reverse dies have been labeled as Small Block S and Small Thin S due to their mintmark shapes.

Mint State examples are available with the Small Block S variety being slightly more difficult than the Small Thin S.

Plate Coin: Fortin 101, Repunched 1, Ahwash 1, Small Thin S Mintmark, Well Struck Example With Light Gold/Gray Toning
Expert Comments
Ron Guth
The 1873-S With Arrows Dime is the third most common date of the With Arrows type, but its mintage is still far below that of the 1873 With Arrows and the 1874 With Arrows. Even so, it only commands a small premium in circulated grades and only about twice the type price in Mint State. The PCGS CoinFacts Condition Census includes coins grading from MS64 and up, the finest being an NGC MS67.
No 1873-S No Arrows Dimes were struck.
Designer
James Barton Longacre
Diameter
17.90 millimeters
Metal
90% Silver, 10% Copper
Region
The United States of America
Price Guide
PCGS Population
Auctions - PCGS Graded
Auctions - NGC Graded
Rarity and Survival Estimates

Learn More
65 or Better
450
All Grades
70
60 or Better
2
65 or Better
R-6.1
All Grades
R-8.3
60 or Better
R-9.9
65 or Better
4 / 6
All Grades
4 / 6
60 or Better
1 / 6 TIE
65 or Better
56 / 122
All Grades
59 / 122
60 or Better
18 / 122 TIE
#1 MS66 estimated grade

Louis E. Eliasberg, Sr. Collection - Bowers & Merena 5/1996:1201, $18,150 - Heritage 10/2001:5991 - Eugene H. Gardner Collection - Heritage 6/2014:30272, $24,675 - Stack's/Bowers 7/2015:4222, $22,325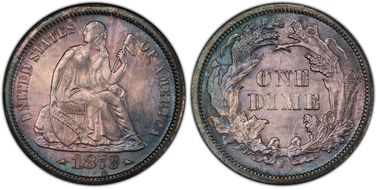 #2 MS65 PCGS grade

Heritage 2/2011:3399 - Eugene H. Gardner Collection, Part IV - Heritage 10/2015:98281 - Stack's/Bowers 11/2016:2056, not sold
#2 MS65 PCGS grade
#2 MS65 PCGS grade
#2 MS65 estimated grade