1874 10C Arrows MS64
Certification #50034039,
PCGS #4668
Owner's Comments
Mintage: 2,940,000
Obverse Dies: 13 Known

The 1874 With Arrows Philadelphia date is common in all grades. More available in AU Mint State grades than the 1873 With Arrows date. To date, thirteen different obverse dies have been identified.

Plate Coin: Fortin 103, Repunched 74, White With Hint Of Light Gray Toning
Expert Comments
Ron Guth
To continue publicizing the increase in the weight of the Dimes that took place in 1873, the Mint used arrowheads again in 1874 on either side of the date to differentiate the new coins from the older, lighter-weight coins.
Though the mintage of the 1874 With Arrows Dime was only slightly above that of the 1873, the former is more readily available in Mint State than the latter, and it is easier to find in super-grades (MS67 and better). In fact, the finest example of the 1874 With Arrows Dime is an amazing PCGS MS68+, which is easily the best example of this short-lived type.
Designer
James Barton Longacre
Diameter
17.90 millimeters
Metal
90% Silver, 10% Copper
Region
The United States of America
Price Guide
PCGS Population
Auctions - PCGS Graded
Auctions - NGC Graded
Rarity and Survival Estimates

Learn More
65 or Better
2250
All Grades
300
60 or Better
60
65 or Better
R-4.5
All Grades
R-6.4
60 or Better
R-8.4
65 or Better
6 / 6
All Grades
6 / 6
60 or Better
5 / 6
65 or Better
105 / 122 TIE
All Grades
100 / 122 TIE
60 or Better
96 / 122 TIE
#1 MS68+ PCGS grade

James W. Lull Collection - Bowers & Merena 1/2005:673, $50,600 - Joseph C. Thomas Collection - Heritage 4/2009:2257, $51,750 - Heritage 10/2011:3495, $51,750 - Stack's/Bowers 8/2013:4069, $67,563
#2 MS68 PCGS grade
#2 MS68 PCGS grade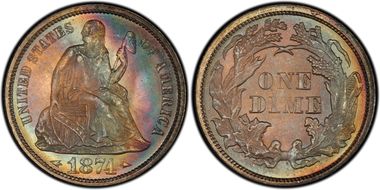 #4 MS67+ PCGS grade

"Dime Box Silver" Collection (PCGS Set Registry)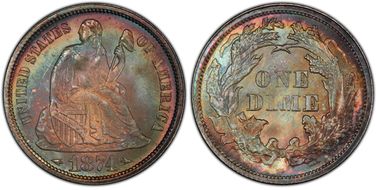 #4 MS67+ PCGS grade