1874-CC $5 AU55
Certification #25518415,
PCGS #8334
Owner's Comments
Allen Rowe Northern Nevada Coin
Expert Comments
David Akers (1975/88)
In overall rarity, the 1874-CC is possibly the most common of the very rare Carson City Mint issues in the 1870-1878 period. (At least it had more auction appearances in my 337 catalogue survey and I have personally seen more of this date than of any of the others.) Most known specimens of the 1874-CC are well circulated and VF examples are typical. A few AU coins are known but only one 1874-CC catalogued as uncirculated has ever been offered at public auction. That coin was in the Robison Sale (Stack's 2/79) and it brought $19,000.
Designer
Christian Gobrecht
Diameter
21.65 millimeters
Metal
90% Gold, 10% Copper
Region
The United States of America
Price Guide
PCGS Population
Auctions - PCGS Graded
Auctions - NGC Graded
Rarity and Survival Estimates

Learn More
65 or Better
200
All Grades
3
60 or Better
0
65 or Better
R-7.0
All Grades
R-9.8
60 or Better
R-10.1
65 or Better
34 / 106 TIE
All Grades
14 / 106 TIE
60 or Better
1 / 106
65 or Better
94 / 218 TIE
All Grades
31 / 218 TIE
60 or Better
1 / 218
#1 MS63+ PCGS grade

Bowers & Merena 6/1991:1512 - A.J. Vanderbilt Collection - Stack's/Bowers 3/2018:10343, $90,000
#2 MS62 PCGS grade

Robison Collection - Stack's 2/1979:498 - Reed Hawn Collection Stack's 10/1993:995 - Dr. Larry Cutler Collection - Doug Winter and Lee Minshull, 11/1996 - Nevada Collection - Battle Born Collection - Stack's/Bowers 8/2012:11005, $43,125. The plate coin in "Gold Coins of the Carson City Mint" by Douglas Winter and James L. Halperin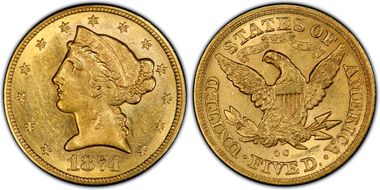 #3 AU58 PCGS grade

Heritage 12/2009:1670, $20,700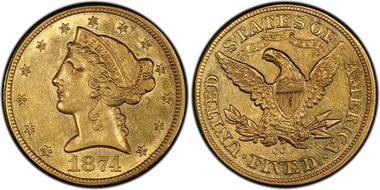 #3 AU58 PCGS grade

Goldbergs 2/2007:2332, $20,125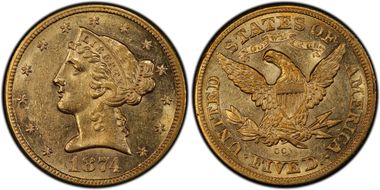 #3 AU58 PCGS grade

Stack's/Bowers 8/2014:13224, $21,737.50